Editor's note: We are thrilled to share this testimonial for ATSI practitioner Anders Totten from his client Sue, with gracious permission of both of them. To find an ATSI practitioner near you, click here. To learn more about ATSI and apply to become a practitioner of this transformative work, click here.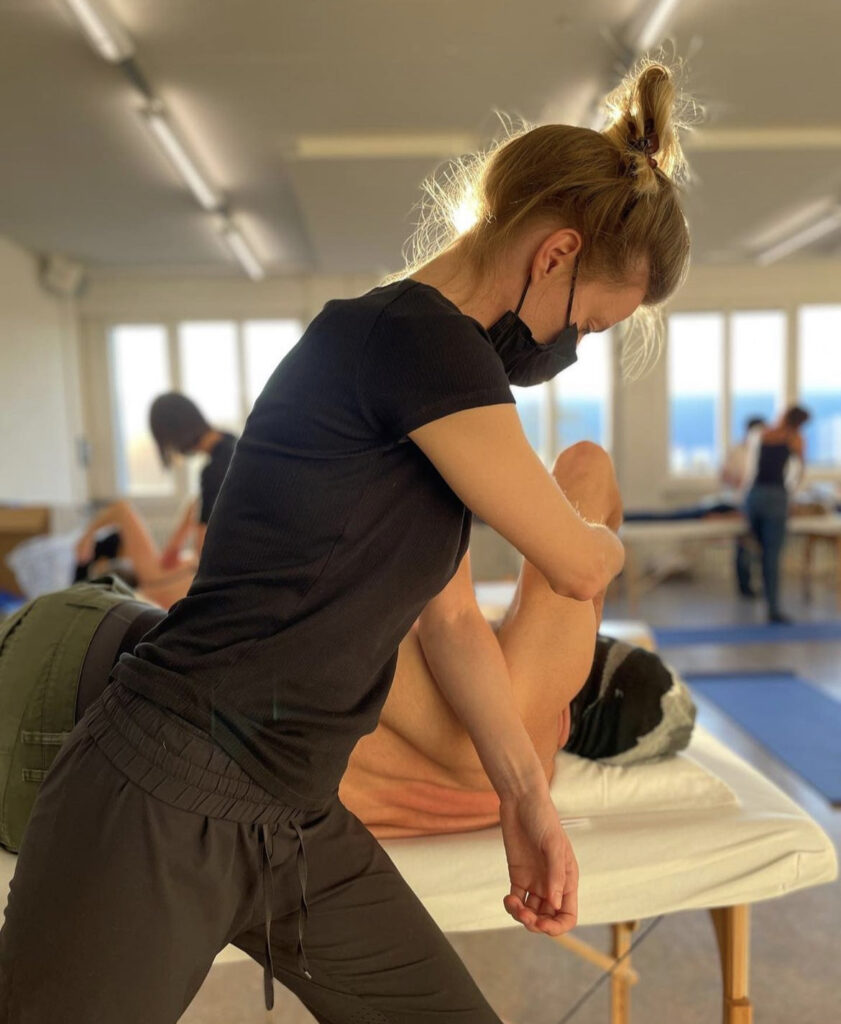 Sue says:

I want to share my story to let you know how my massage therapist and SI practitioner Anders Totten from GHC in Madison used the 12 series to heal my body after a shoulder blade injury lead to over 6 years of a full body pain nightmare.

After shoveling heavy slush, I experienced pain in my right should blade and was diagnosed by my primary practitioner with a winged scapula. She sent me to a physical therapist who did do minimal hands on therapy but primarily sent me home with exercises. After symptoms worsened with pain migrating to my left shoulder blade and trapezius and neck, my primary administered wet needling and I started getting monthly massages on my own dime.

This was the start of a continual cascade of pain throughout my body. It was like a wildfire spreading through a forest, jumping around and settling in different areas for up to two years at a time. The first area where pain settled was my left hip, for almost two years. After that, the pain settled in my left coccyx, for a year and a half. After that, it settled in my lower back. During that time of pain settling in a specific area, pain was constant in my scapulae, primarily on the left side, trapezius and neck. I also developed TMJ and then pain that settled into my lower jaw, planters fasciitis, and calf cramps. There really weren't any areas of my body that didn't hurt. Sleeping was impossible and sitting still, particularly being in a car, was torture.

During this pain journey, I saw probably 8 PTs, had an MRI and traction therapy, had 3 sessions of acupuncture, that one session of wet needling and 9 sessions of dry needling, took up yoga and meditation, took pain meds and occasionally a muscle relaxer to help sleep, and bought hundreds of dollars of tools including massage canes, balls, rollers, a massage gun, a tens unit, an acupuncture mat, a Pilates ball and spent at least an hour every morning working out what I could to function for the day.

My plea with every new practitioner I saw was getting to root causes but I felt that whatever was hurting the most at the time was the focus. The one practitioner who was constant throughout the six years was Anders; he was the only person I saw who did take a full body approach and I could really connect with him on the mind body approach to care. At one of our sessions, I asked him if he heard of Tom Meyers whose work I ran across doing research and was getting relief at home doing his facial self massage every morning. Weirdly, he had literally just signed up to go to training and I was one of, I think, four people in his initial rollout.

Within three sessions, I felt significant healing. By the end of the 12 sessions, I returned to my pre injury state, feeling just the regular aches and pains of a 57 year old. The sessions ended about 6 months ago, and I still feel great. Things like dry needling, acupuncture, and massage aren't covered by insurance. These therapies and the tools amounted to pretty significant out of pocket expenses and the 12 series cost me about $1,000. That grand was the best money I've ever spent; it totally changed my life.

My practitioner, Anders, is just fantastic, and I am just so happy and relieved that he was able to use the 12 series to get my life back. Thank you, thank you, thank you!!
Sue Paulson
From Anders: 
We started Sue's series last year while I was still back and forth to Maine. We left behind the tired routine of chasing symptoms piecemeal, and outpatient itch-scratching, instead to focus on an agreed-upon project with two parts: the series itself and its completion. This completion may be dismissed as tough love by some, though for Sue and many others, it is marked by feeling free and empowered.
It has been a pleasure to see the bravery Sue has demonstrated over the years and within this process. She is an enduring self-advocate; a woman of astonishing resolve. Sue trusted her body's sensibility and clutched this faith while walking boldly into her integrated life! Therefore, she deserves credit where it is due…
Sue! Congratulations on this triumph and my deepest thanks for sharing your sacred path of healing with our community! With the warmest heart, I receive your gratitude completely with thanks to you and my instructors.