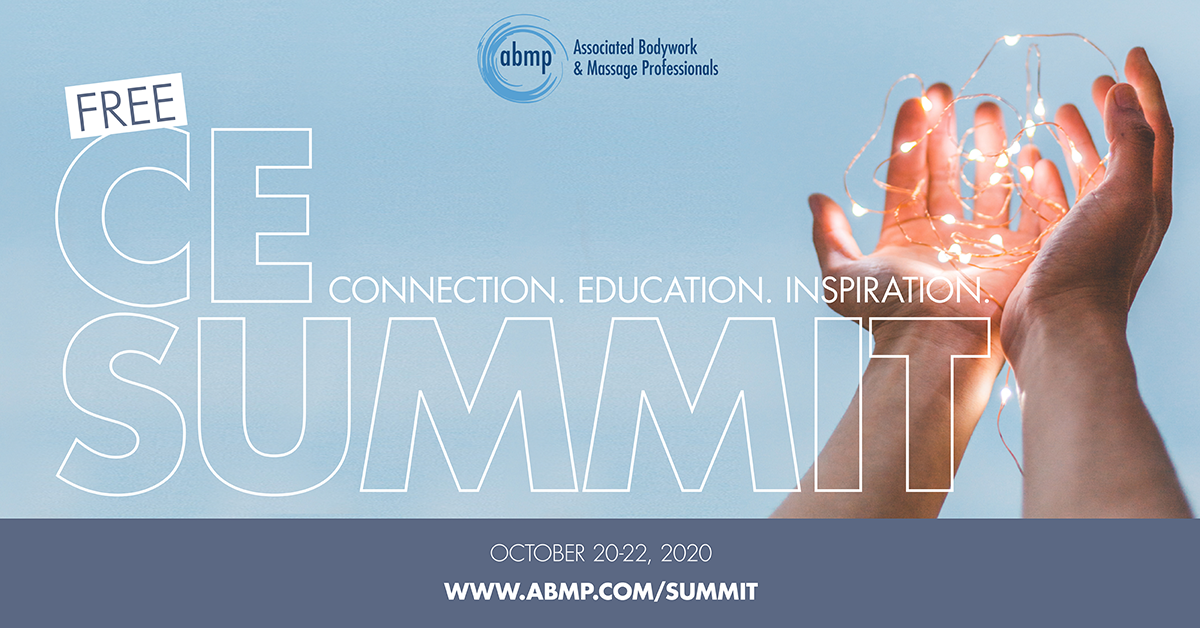 October 20-22 – all online and FREE! 
Tom Myers will participate in the 2020 ABMP CE Summit with a practical clinic on the shoulder. Connect with your massage community and leaders in the profession online! This virtual education experience addresses a wide variety of topics to share timely and valuable information to enrich your practice and life. Don't miss this opportunity to interact with the presenters live online, learn tools to help navigate this unique time, and connect virtually with your massage and bodywork community.
This event—including 9 hours of CE—is free for everyone in the profession!
One free event registration gives you access to all of the presentations.
Tom's presentation will air on Thursday, October 22 at 9:30 AM (MT). 
Balancing the Shoulder: Practical Clinic with Tom Myers
This course provides four complete mini sessions, from BodyReading (visual assessment) to treatment strategy to technique. Learn techniques for balancing the myofascia of the shoulders, arms, and hands, from Anatomy Trains author Tom Myers. Human arms require a complex equation of stability versus mobility to balance correctly on the rib cage and spine. Problems in the shoulders can, over time, travel down into the arms and hands or up into the neck and jaw. Learn to recognize "ideal" and compensated patterns and how to tie them into the story of the rest of the body. Learn to really "see" what work needs to be done to create lasting results for your clients.
See the full schedule of exciting presentations and sign up for FREE below: