Anatomy Trains is pleased to announce Tom Myers will be part of The Embodiment Conference, October 14-25.. This will be a rich opportunity to come home to your body, in our chaotic world. Many of the planet's best teachers will be there, and it costs nothing to be a part of. 
Yoga, leadership, dance, creativity, social change, intimacy, martial arts, meditation, breathwork, coaching, body therapy, anatomy, ecology, and trauma are all represented! This online event is unique in size, but also in how it will help you find what you'll most love, and connect you to others, using some clever new technology. 
At the conference you can:
learn about new areas of the field (they have it covered!)

gain deep personal insights 

deepen your professional expertise

gain dozens of practical tools for stress and trauma 

get inspired and

reboot your own practice

connect with people across the globe for support and encouragement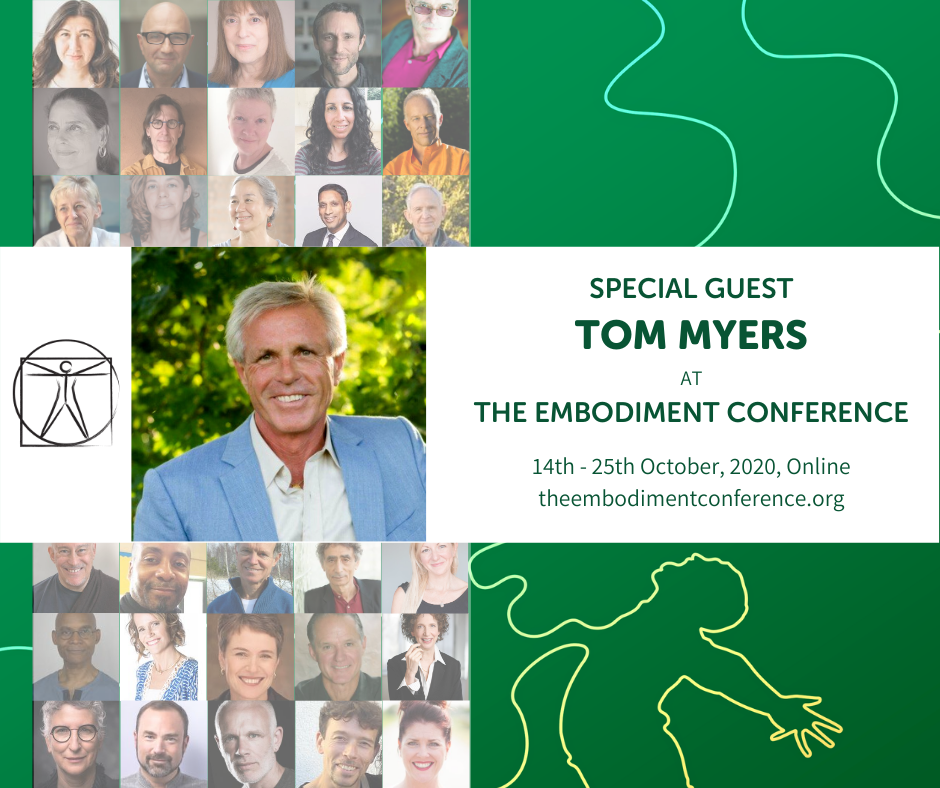 On Saturday, October 17th at 9:00 AM (EST) Tom will be presenting: 
The Anatomy of Vitality – Self practices for a resilient response to our challenges
Tune yourself for this uniquely straining time via a dynamic and interactive tour with Anatomy Trains cartographer and author Tom Myers.  Spark your curiosity with a startling view of all our systems' interactions with fascia, coupled with nourishing and revitalizing self-massage for head, neck, jaw, hands, and ears.  Learn simple breathwork practices to invite recovery and centering.  The session concludes with 'BodyReading' practice – how to visually assess posture (yours or clients') in terms of the ' myofascial meridians', and how to apply your own approach through the Anatomy Trains lens.
skill level:  intermediate – advanced 

emotional intensity: soothing – neutral

physical intensity: interactive – active/requires arm-swinging space and a floor mat
Sign up for this exciting FREE event and join Tom Myers and a host of world-class teachers: