Hazel, the rather tall local KMI practitioner, took me for a much-needed walk (she strides – I pumped my little legs to stay with her) up to this radio tower at the top of Sugarloaf, above the city of Christchurch, NZ.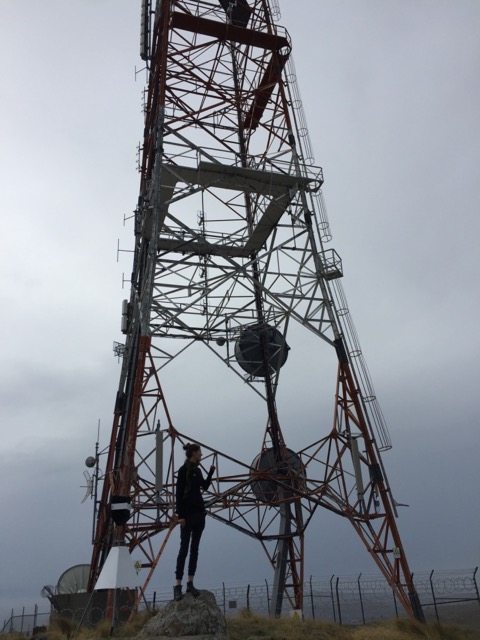 On the way, through a welter of mountain bike and 'tramping' trails (they're all sports mad here, doesn't matter what it is, they do it at speed, we listen for them), there be blackberries a-plenty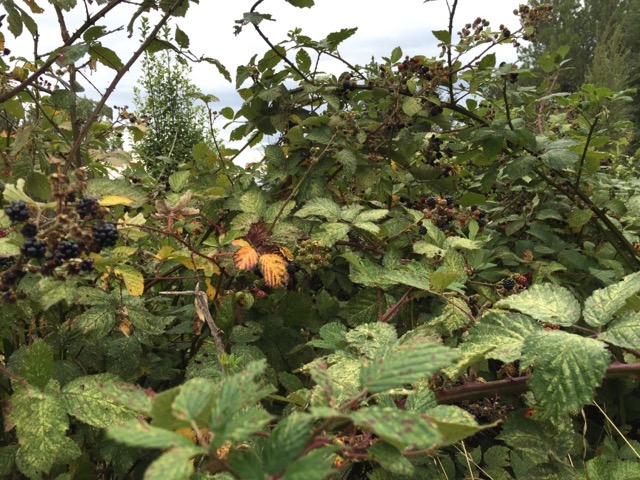 And eucalyptus as big as you've seen, towering over the pines.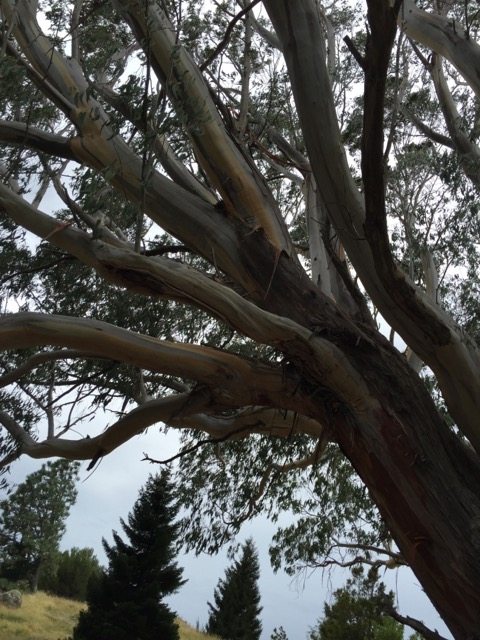 From the top, we are looking down into the caldera of a local volcano.

It was a rainy day, but brilliant just the same – the blown grasses like the hills above Edinburgh, as clear a caldera as I've seen since Santorini.  The open sea is just beyond those hills, but the earthquake messed up the channel, so the big boats cannot get in here anymore.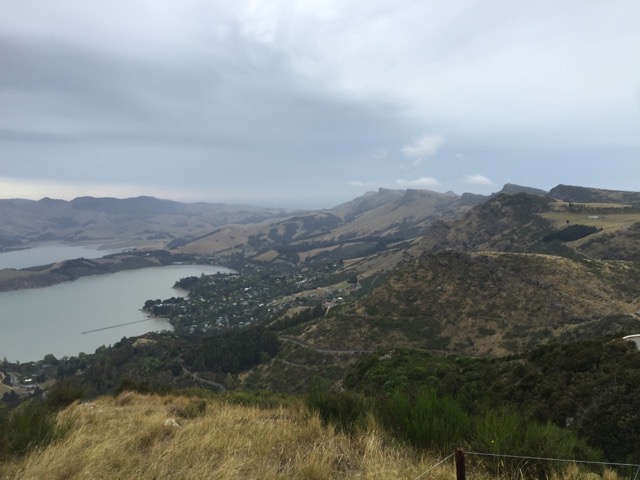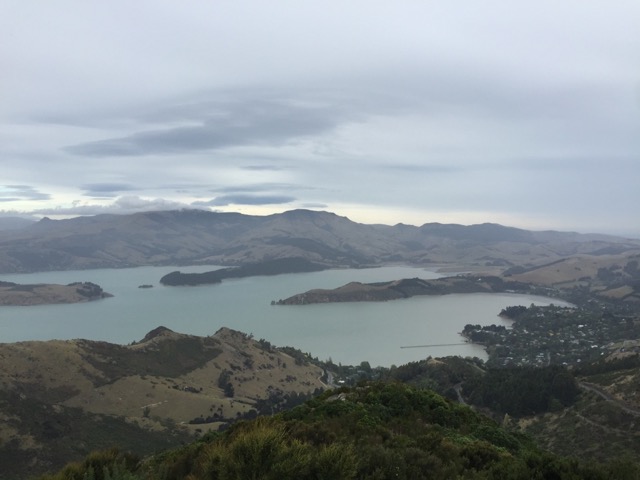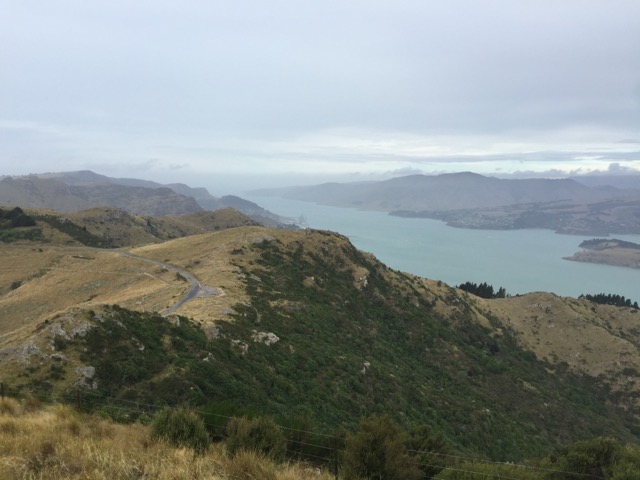 If I had turned and taken a picture behind me, it would have been the town of Christchurch but you would have seen – nothing.  What if your town fell down around you?  This is what happened here in February 2011.
New Zealand in a hot spot in the Ring of Fire, but it was Wellington that was waiting for the 'big one'.  Instead it rippled here in the Canterbury Plain, and nearly every building toppled.
Here were three city lots – once covered with multi-story buildings – under various stages of construction here before the one remaining building. But look at the top, it says 'TOGO', meaning To go, meaning set for demolition, it has 'to go'.. It is 5 years later and all the buildings that have to come down have not even been removed yet. Cranes are everywhere, and the place is full of construction workers from Ireland, engineers seconded from Canada, and every worker here at full tilt earning that insurance money.
The cathedral was perhaps the worst blow, but the whole city was all but leveled. The 'chalice' next to the cathedral is an art piece – the early hope of resurrection some five Easters later, but also of chagrin – "Let this cup pass from me."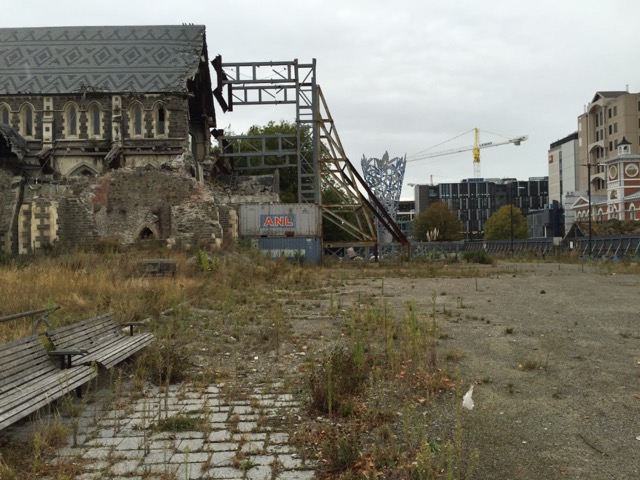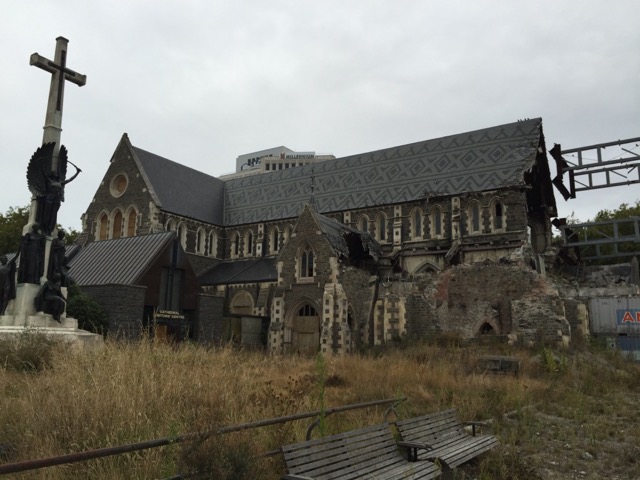 The sign on the building above the church is 'Millennium'.
Everything is very slow to be rebuilt – they've been focused on housing the ones who stayed, and so many others moved away, it takes a team of engineers to decide if each building is worth shoring up or put it on the To Go list.  It is amazing to me how slow it has been to come back – it must have been a whole city of PTSD. Still, it seems like after 5 years…  Luckily, fewer than 200 were killed, and most of those in one building – the CTV center for Christchurch TV.  Here's the cathedral before and after, from a postcard.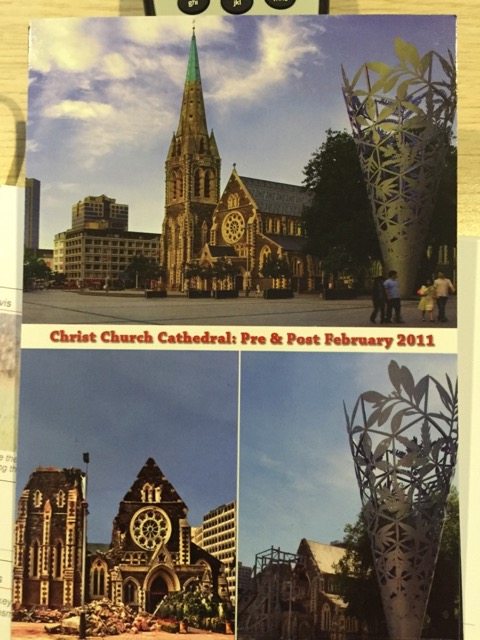 Downtown was totally gutted, and remains mostly a construction site, but that is one up from the cordoned off apocalypse that followed the year of the quake.
Every bit of infrastructure is having to be rebuilt – electricity first, water and gas mains not so easy. The 'rush hour', such as it is, is between suburb and suburb, since everything has moved out there.At the center, Re:Start is a set of containers which have been imaginatively turned into a series of 'pop-up' shops, a kind of Camden Market of cafés, trendy shops, and 'home goods' – everybody's having to rebuild.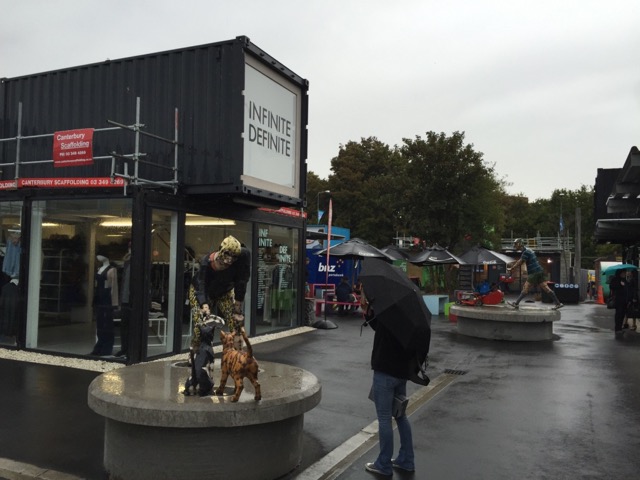 There has been quite a bit of spontaneous art across the city since the quake, the artist's immediate statement of hope and rebuilding.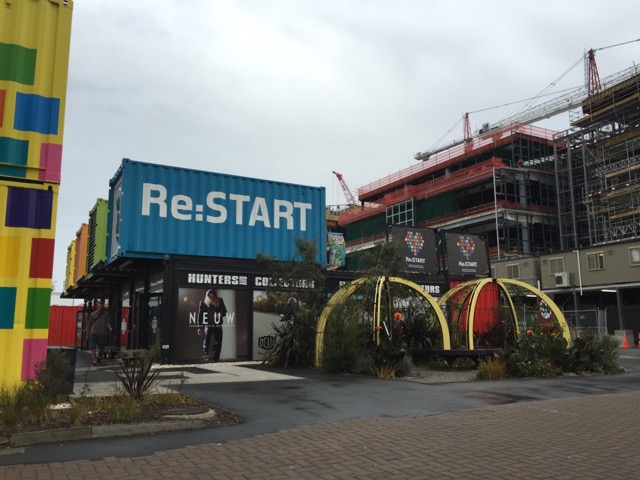 Living in such a spectacularly beautiful place – the South Island is where Lord of the Rings was filmed, and an endless series of vistas trend down from the white spine of Alps, sheep covered pasture and river rapids alike – always has its cost. In contrast to Australia, New Zealand has no snakes or funnel-web spiders – you can run the hills, woods, or rivers with wild abandon. People get injured, lost, or occasionally die in the untamed wilderness.
But the threat lies quiet beneath the ground here – invisible and intangible until the one day – next year or a thousand years from now – when the tension is too great. The plates let go, sliding along each other, sending waves rippling through the surface. People caught here describe it as incredibly disorienting, and repeatedly use the word 'fluid' to describe the feel – walls, streets, everything went fluid. Out by the beach, many houses experienced 'liquefaction', where sand – tons of it – bubbled up into the cellar and through the floors, during the quake and the many discouraging aftershocks.
What would you do if your town fell down? What – and how – would you rebuild? Some things are being done anew, in an 'anti-fragile' way. Some just want restoration of something comforting, as their home town is strange and unfamiliar.