Dear Annie,
When stranded in a seaside city, one can do worse than taking the local ferries to get the 'lay of the land' – from the water. Someone with a day to kill in Portland can take the Casco Bay lines out to the islands, and of course we recommend our students on the ferry to Monhegan to give some sense of what you and I experience in cruising. So this morning I ducked out of the hotel, two blocks down onto the ferry – very like Commercial St, Auckland has the feel of Portland, just a little more condensed – out into Waitamata Harbour and went out to the local 'Monhegan' called Waiheke ("Island of Trickling Waters").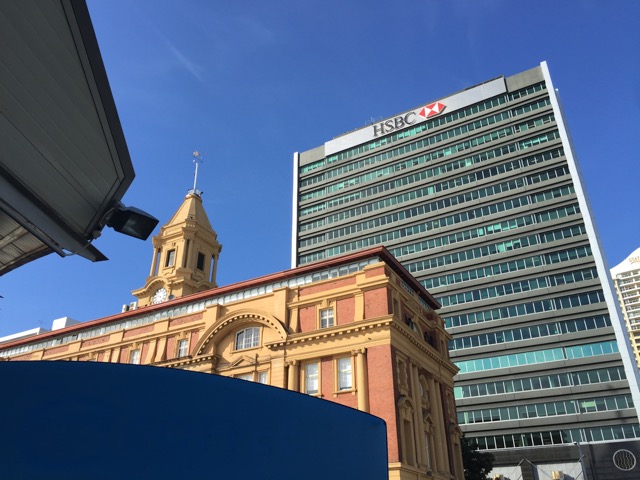 Here's coming into the island, 45 minutes later: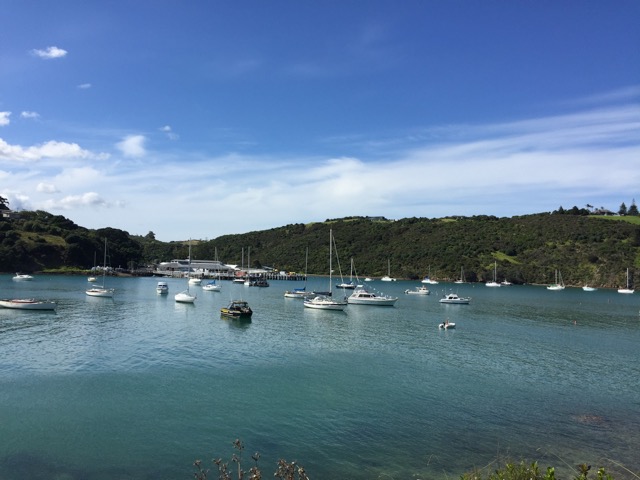 I jumped off the boat, grabbed some water, and headed off at a Tom-clip around the headlands, passing cove after secluded cove: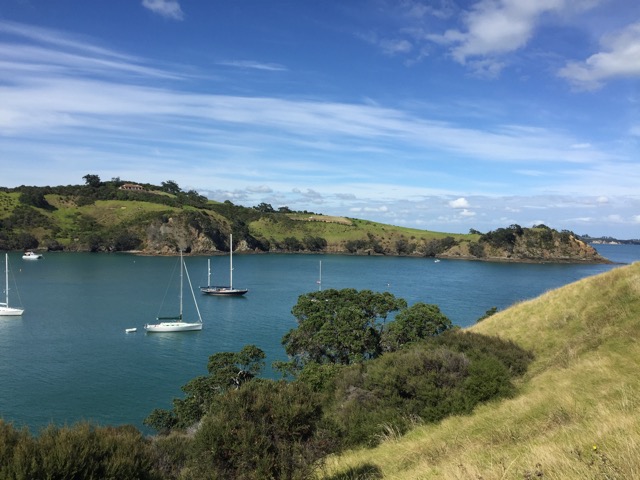 Auckland is there, the white strip off in the distance.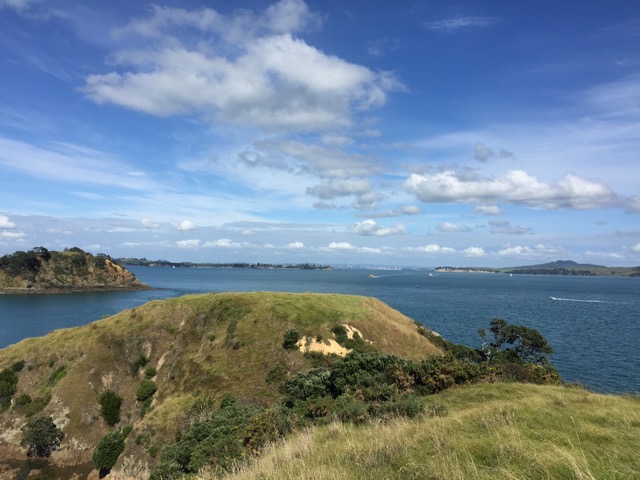 Nobody, anywhere – passed a half-dozen friendly people on the 3 hr 'touristy' walk – again, the equivalent of walking over to the Black Cliffs on Monhegan.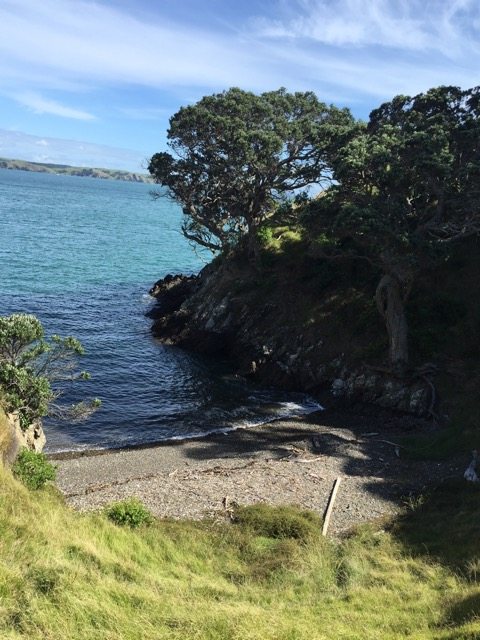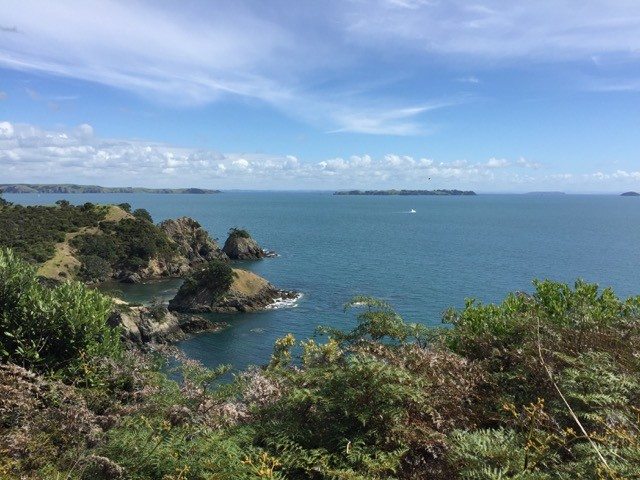 Out to the west, the last of the barrier islands before the full brace of Pacific.  I'm sure it gets up to its Neptunious tricks out there, but it keeps the swell down all through the Hauraki Gulf, which is what you're looking at.  Very expanded Muscle Ridge, Penobscot-like, except that the islands are pastured with all kinds of deciduous trees riven into the swales.  Most are national park, uninhabited; many anchorages, like Maine.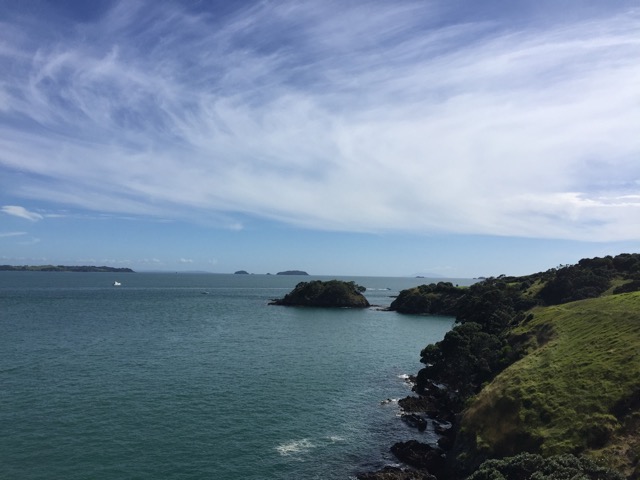 Many secluded coves, with great little beaches under gnarly trees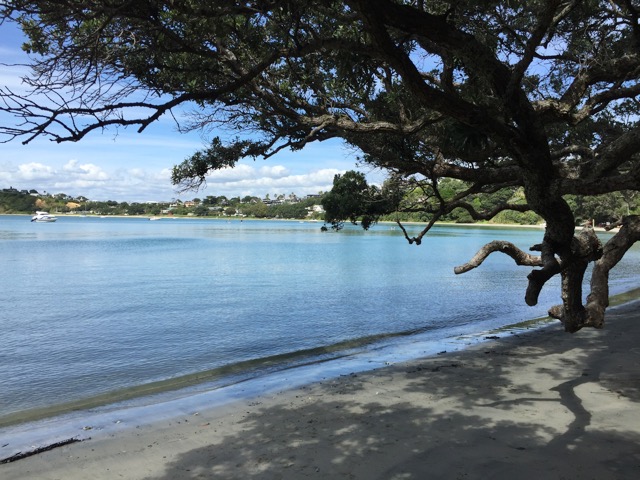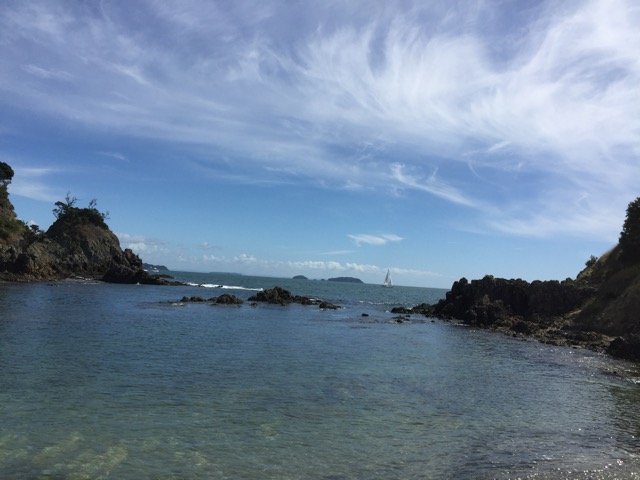 The rich folks live in the houses on top.  Down in the harbor and scattered about are the hangers-on and those employed by the folks on the hilltops.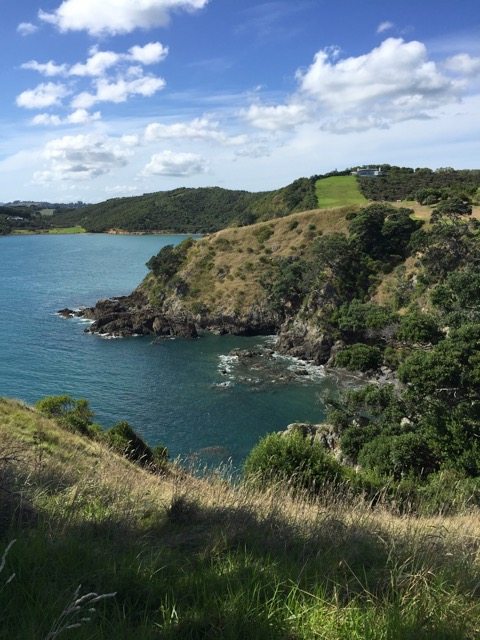 Every little bit you come across something whimsical, like this dog sculpture created on was once a bit of cable track: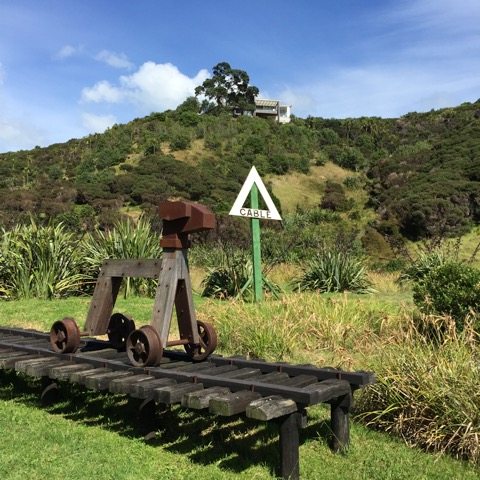 Sorry, had to do a selfie with this one to get the size – Maori Easter Island heads – a boulder covered with glyphs in the middle of a huge field – crop circles looking for a landing!
The path back ran through the amazing variation New Zealand seems to offer – olive groves, vineyards, gathered cedars, shrugging eucalyptus, fields and farms. I was late and took no pictures – the last part was a close jungle trail through all kinds of bird sounds – and was sweating and just in time when I emerged near the ferry dock.
There are classic boats, though most others would merit our New England purist's scorn. Occasionally these good ones can be had for a song, when some family decides to end their 'round the world sailing dreams and take the flight home.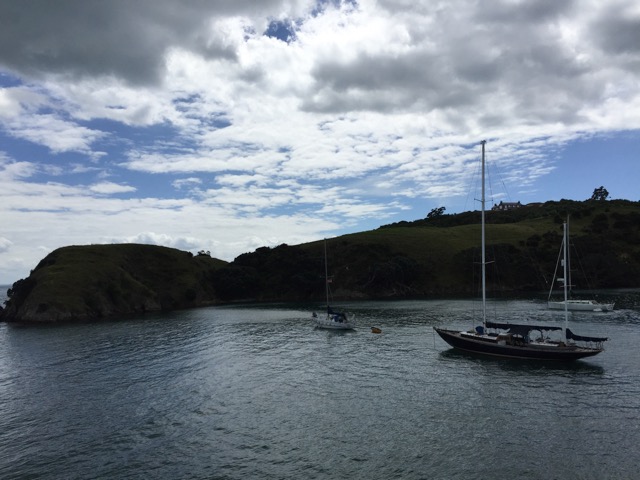 Back to Auckland across the quiet sound.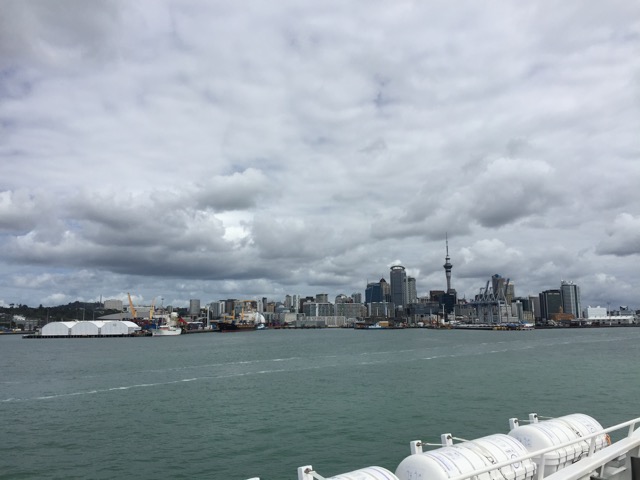 As you can see though, the clouds have come in and brought some wind with them, and that's good, because the next thing was to crawl aboard this former America's Cup contender: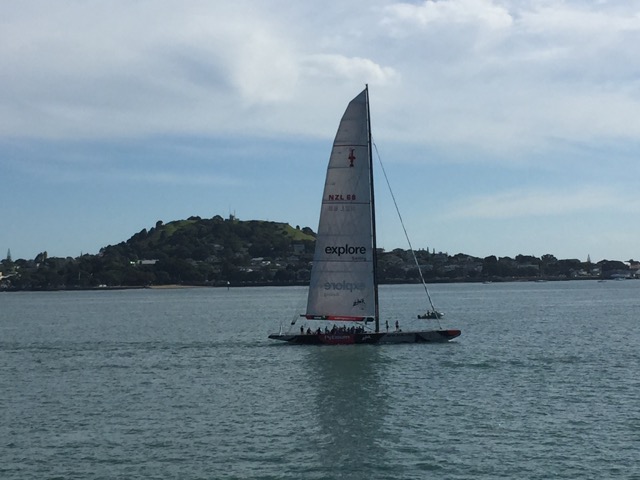 They put an engine in it, to get it out of the marina – and yes, it's a tourist thing – but even with only 10-12 knots of wind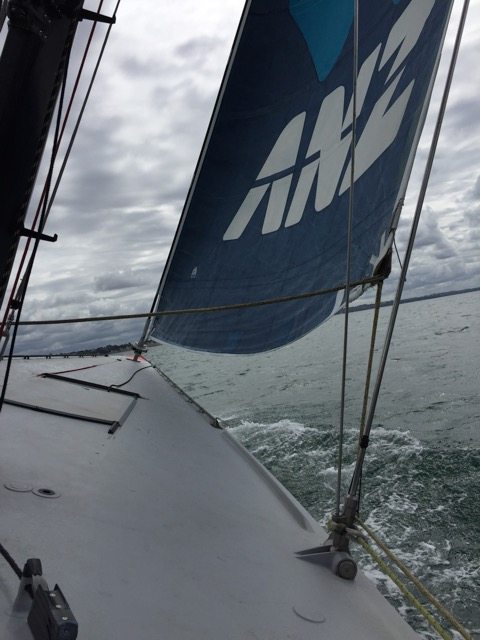 this 80' vessel skims through the water at 10+ knots. We could crank if we wanted to (I wanted to, steered too – fingertip steering even hard on the wind. I got the funneling bit around Fort Davenport which was fun, laid her over to 30 degrees and scared the punters – didn't get a picture of that, but here's yours truly on a coffee grinder: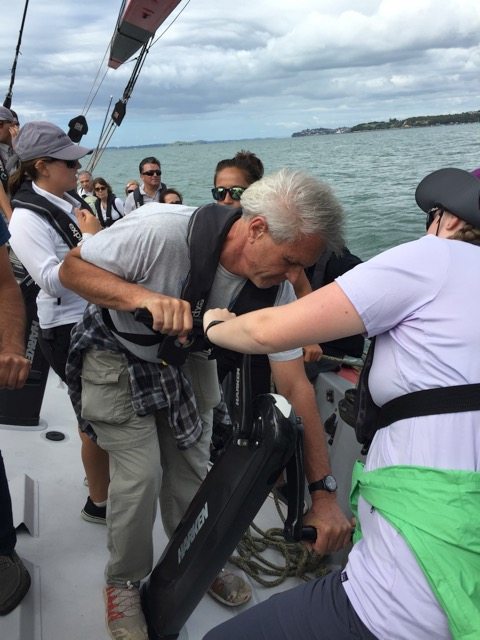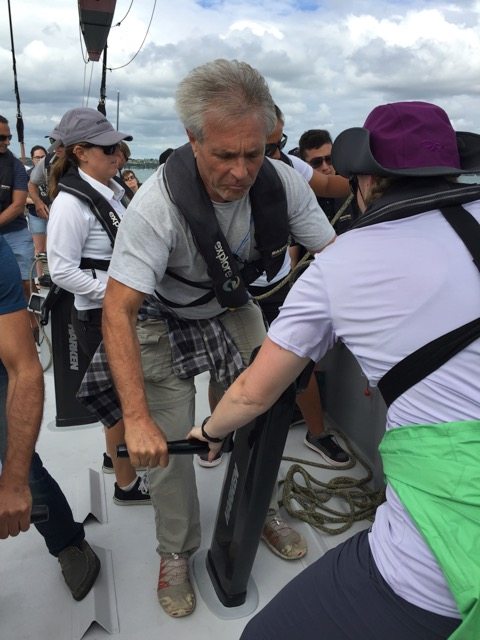 Yes, it's an Australian hat, but she was from Alabama, an' the poor little thing couldn't hardly grind a toddy pot.
We had the genaker out down wind, but getting back to Auckland was close hauled. That is the downtown, and they are inordinately proud of that droky little tower, and the downtown is much like Congress St of 20 years ago.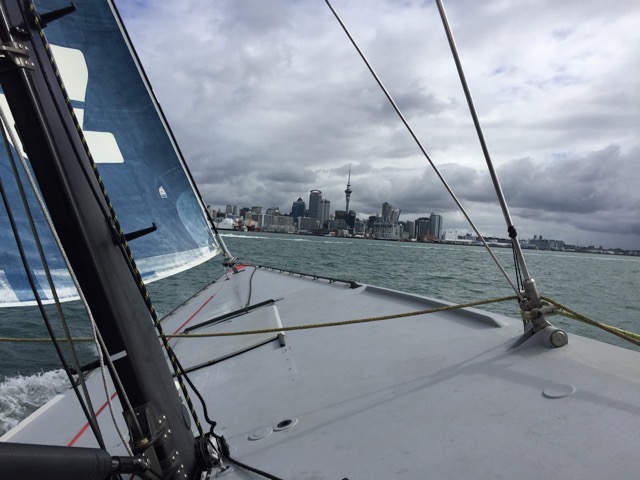 At the end, the engine must come on again and the sail is flaked onto the huge boom.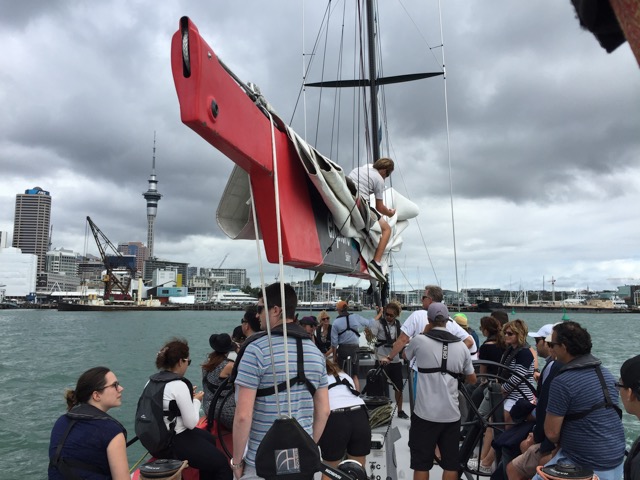 A modern version of a Maori war canoe converted into a cat – covered in Maori symbolic art.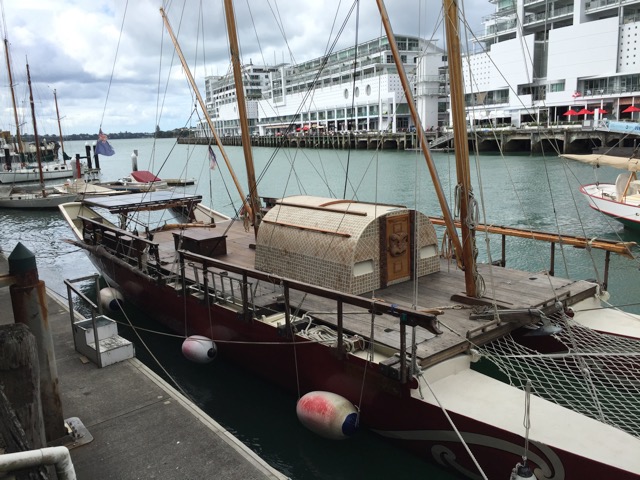 And old fishing smacks, like our skin ships – these at the maritime museum next to the America's Cup thingie.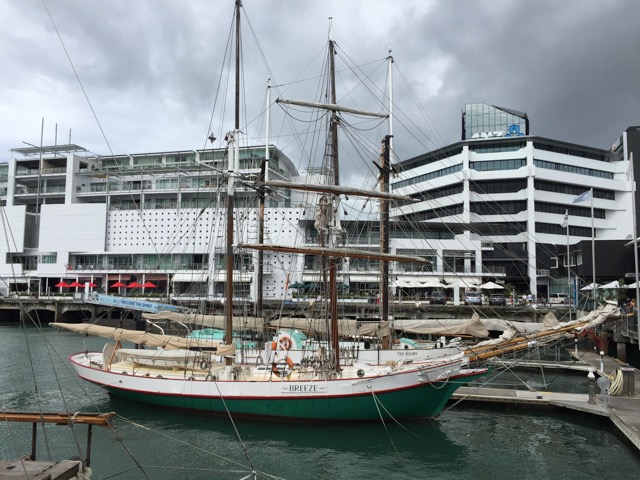 I have been wondering about the 'purpose' for this long,long trip. Yup, I get to work with some old friends, spread the word, earn a bit of dosh, but why come this far?
Today I know. If ever we are forced to pull up stakes in Maine and move elsewhere, even out of the US of A (in Trump's second term?), we have thought of Greece, or Vietnam, but after today, I will have a strong vote for the North Island of New Zealand – it seems to have the best of Maine's isolated island coves, Greece's Mediterranean grow-anything climate and friendliness, and Southeast Asia's vegetation and warm clear water all rolled into one. And with the added attractions that everyone speaks English (after a fashion, as we do), there is a cheerful and 'hahtfilt' (heartfelt, local pronunciation) inclusion of the original Maori culture – kia ora everyone – and this 'city of sails' provides ample protected sailing for us old duffers, and ample grassy pasturage for horses. Drop into Auckland for sushi or a movie – 40 minutes just like Rockland is for us now. And no winter or mud season, and no one cares how you dress.
When you and I met, the farthest south on the planet I had been was Sao Paulo, which 23 degrees S.
In the past few years, I have made it to Capetown, almost 34 S.
Auckland, more temperate, is just shy of 37 degrees S, about as far south as Greece or Santa Cruz is north.
From there, I know, it feels a long way here. From here, it doesn't feel a long way home. But if we had to change homes, we could do a lot worse than here.
Tom, 15 March 2016