We have just begun our first KMI training – our version of Ida Rolf's Structural Integration – in Australia. It throws me back 15 short / long years to when I first made my first tentative moves to initiate my own classes. It wasn't easy to leave her institute – I had been a faithful proponent of her vision for the previous 20 years, as a practitioner and as a teacher. Anatomy Trains first took shape – as a game to teach connected myofascial anatomy to the nascent students at the Rolf Institute in my role as an adjunct faculty there. But then it hit me: her 'recipe' for the ten sessions could be reconfigured in terms of a progressive opening and integrating of these long fascial trains through the body. I tried to 'sell' the idea within the Rolf Institute faculty, but it was too radical a departure for the orthodoxy, and I reluctantly took a leave of absence to test the idea out. I thought it would be a one-year experiment and then I would return to the Rolf Institute, but it proved successful. The following year there was more demand and off we went to form one of what is now a dozen or more schools of SI around the globe. I remain eternally grateful to Ida Rolf and her insights, without which I would never have reached this stage, and I also remain convinced that having a number of approaches to structural integration is of benefit, not harm, to the spread of her ideas.  As KMI has grown, developed, added faculty, and absorbed new information, we have moved ever more into our own ideas, vocabulary, and emphasis – especially benefitting from the addition of more movement, function, and 'spring' to her original brilliant analysis of standing postural pattern. So this training in Australia is about the 20th such training we have run in the last dozen years, but doing it here for the first time has sent me thinking back to those first stumbling attempts to articulate a cohesive body of work. I was looking for something based not on what "Ida said…" but rather on a logical unfolding of pattern change in the structural body.
We gathered a great group of people here willing to risk their time and money on something new. It has a wonderful Australian flavor – brash, humorous, self-deprecating, no nonsense, playful, and enthusiastic. I believe it will thrive here – especially with the competent and determined leadership of Julie Hammond who is organizing things Down Under – as it has thrived in North America and Europe. And surely over time KMI here will take on a uniquely Aussie cast, which I look forward to seeing and perhaps guiding a bit. I am very humbled by the positive response, and grateful to have such a varied group of students.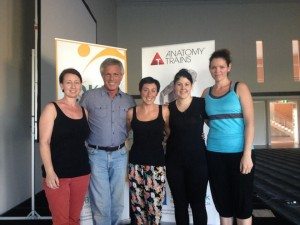 As always in the beginning, the first netting gathers innovators and artists, who fall, I find each time we broach this somewhere new, into three categories. Some of these originals will be the pillars of the structural bodywork community here in years to come, some will pass quickly into the next new thing that comes along, and some will fall by the wayside – it's inevitable – as they come to see that this wasn't what they wanted, or that this approach doesn't fit their own version. It's ok – it's all part of the rich mixed feed that enriches the soil which fertilizes this and other methods for keeping our bodies alive, present, healthy, and expressive in this 'touch-starved' world.