Add fascial and myofascial release techniques to your practice. Study directly with Tom Myers at your convenience over the internet.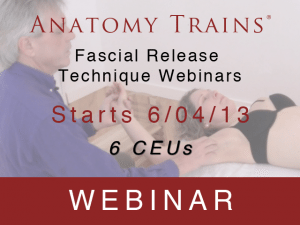 Tom says: "I have been really pleased with our new venture into webinars – pleased with your response, and pleased with the innovations in webinars we've been able to make. Video, slides, PinP, and a two-camera shoot integrate these webinars like a TV show or a DVD – but with an interactive twist." This series of 6 x 1-hour webinars will focus on key release techniques around the body and conveying them to you in an understandable, usable manner. Each webinar will explain and demonstrate around 10 techniques – the intent, the anatomy, assessment, your body use, hand position, and how to know when you are done.
Each webinar counts for CEUs (check for which professions are covered), but they are worth it just for the addition to your practice. Tom Myers has been doing bodywork for 40 years, and describes himself as a 'lazy' man who can teach you how to make deep change with a minimum of strain and fuss. Learn strategies for how to open hips, shoulders, feet, and the spine. Online education worthy of the name.