Anatomy Trains, in collaboration with the Laboratories of Anatomical Enlightenment, will offer TWO exciting courses in Boulder, Colorado, this October!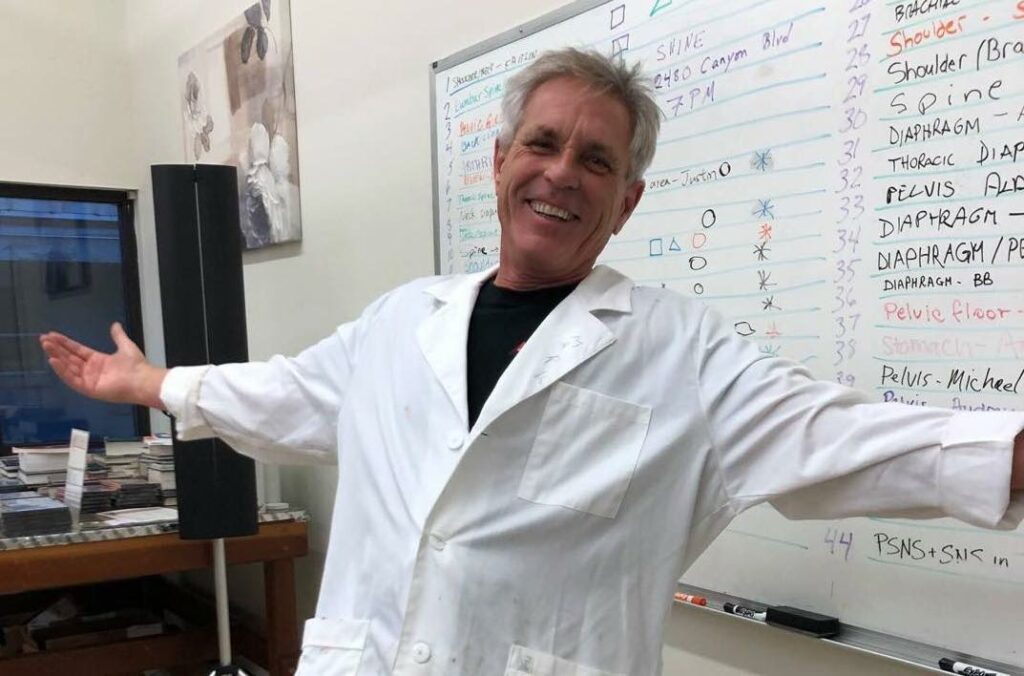 BodyReading 101 + 102 with Tom Myers – October 21-22, 2023
Fascial Dissection with Anatomy Trains author Tom Myers and Master Dissector Todd Garcia – October 24-27, 2023 
Between classes, you have the chance to take part in an exclusive BodyReading photo shoot! Get a personalized BodyRead from Tom Myers and have your photos taken to be part of the 5th edition of the Anatomy Trains book! Students from either / both classes are warmly invited to take part in this unique opportunity, held on October 23rd, 2023. 
For more information and to register your interest in taking part, please email us at info@anatomytrains.com
Enjoy a video invitation from Tom: 
BodyReading 101 + 102 with Tom Myers – October 21-22, 2023
Early bird price of $550 held until October 10, 2023 / $650 thereafter
Come one, come all! This skill-building workshop is for Movement Professionals and Manual Therapists – trainers, massage therapists, rehabilitation specialists, and yoga / Pilates teachers.
Can you see what the skeleton is doing inside the standing or moving body?  This workshop builds your skills in seeing and palpating skeletal relationships – the key to effective whole-body training and treatment strategies.
Each person is a complex set of interactions based on their history, injury, training, feelings, and attitude.  Learning to see these relationships accurately is essential in unwinding postural patterns that are causing pain, dysfunction, and inhibiting optimal movement.
Practice seeing specific tilts, rotations, and shifts that get hooked into our unconscious patterns and rob us of energy every day.  These skills can be immediately applied to your clients tomorrow.
Once you know the skeletal pattern, we review the Anatomy Trains Myofascial Meridians, long chains of myofascial force transmission responsible for holding the skeletal patterns in place.
The real problem is often quite far away from the site of pain or skeletal imbalance.  Learn to see inside the body for more efficient and long-lasting treatments.
This workshop includes:
How myofascia, joints, and nerves co-create lasting postural patterns

Treatment differentiation for areas of concentric and eccentric tension

Basic functional assessments to see what moves and what does not

Easy charting of your findings
Tom Myers' Anatomy Trains workshops are fast-moving and engaging, designed for working professionals with no time to waste.  Bring your sense of humor and a notebook.
Fascial Dissection Intensive with Tom Myers and Master Dissector Todd Garcia, October 24-27, 2023
$2,240 and the $500 deposit is non-refundable and used to secure your enrollment
Discount for Full Payment in Advance: $1,990 ($250 discount)
After so many online classes in recent years, we are excited to be back in the dissection lab with Anatomy Trains author Tom Myers and master dissector Todd Garcia at the Laboratories for Anatomical Enlightenment in Boulder, Colorado. Join us for this new 4-day in-person Dissection intensive, where you will have the unique opportunity to see in the most natural conditions possible and dissect for yourself what is under the skin. 
You will meet students from all around the world and from all points-of-view within the manual, movement, and medical professions to explore the complexity of the actual human form. Not those simplified images you get in all the books.
You will be working on your own projects, supported by experienced Anatomy Trains lab assistants.

You will be at a table with 7-8 other participants.

There will be at least 4 different donors for comparative anatomy.

We know this encounter with mortality can be an emotional challenge and a spiritual evocation – and we are not trying to 'objectify' the process.. In our classes, these aspects of the experience are very much respected. Join us on this deep voyage of discovery.
In 4 days, we will go from skin to bone, including exploration of the superficial fascial layers, the myofasciae and the Anatomy Trains meridians, the organs and their attachments, joints and the spine, and the brain, meninges, and nervous system. You will work on your own donor and project, obviously, and additionally there is comparative anatomy as you learn from other people's projects on (probably 4) other donors as well.
Pick your own project, or we can help you find one. You are supported by experienced Anatomy Trains lab assistants at a table with 7-8 other participants. You can also observe the fine skills of master dissector Todd Garcia who will be demonstrating on a dedicated table, and gathering the benefits of the other projects in the room.
Click here to learn more and sign up.
We hope to see you with us this October!