The leader of rehabilitation at the local hospital in Shenyang is one of the KMI students, a kind older gentleman who looks more Indian than Chinese. He wants me to look at one of his patients, described as a monk. He has an intractable shoulder problem. I come back early from lunch to have a look at him.
Immediately on his arrival, I feel the vibe I am familiar with from my contact with Tibetan Buddhists, starting with Chogyam Trungpa Rimpoche in Boulder in the early 1970's, and in my visit to Nepal in 1980, and in London and Santa Fe after. That religion produces an unmistakable presence, which may be suppressed by the current government, but can never be entirely extinguished.
I was not able in the circumstances to ask him the questions I would have liked, but he sure looked and felt Tibetan, and was obviously respected. Tall with huge beetling eyebrows jutting out over rimless glasses under a large round shaved forehead, with an infinitely patient if severe manner. He is attended by two younger folks who feel like a son and daughter (but could they be? I don't know the rules), who help him with his shoes and sweater since his left arm is incapacitated.
I stood behind him and put my hands on his shoulders and am suddenly and unexpectedly drawn into his priestly aura. The stark institutional classroom and the attending students clattering back in from lunch disappeared and I was being swirled down, down into a cavern of silence created by his meditative practice.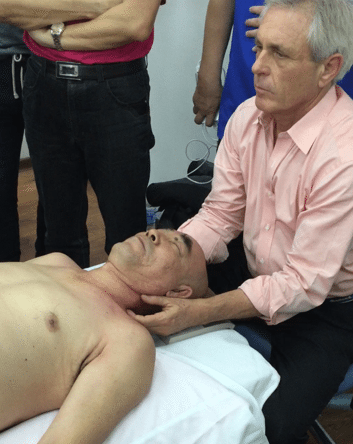 Only those who do depth bodywork will perhaps understand, how you enter the other person's reality when you put your hands on them. I would have fallen gratefully into that deep pool for an hour or two, but after only a couple of minutes, someone asked me a question, and I came back with a start, realizing that I was in a room with a bunch of students who wanted me to give a demonstration to unfreeze a shoulder.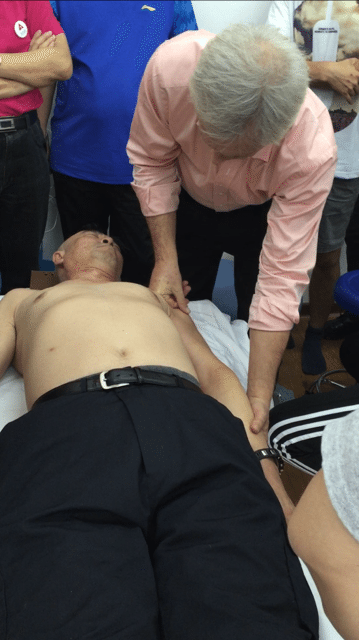 Reluctantly, I exit the deep connection and establish a more superficial one with the periosteum of his broken clavicle and start explaining what I am doing – Sharon Wheeler's bone work for starters, but then I do some more conventional work around the joint and rotator cuff, to relate what they've been learning to what they are seeing in practice. Thus, I get some improvement in his flexion and extension and everyone ooh's and ah's, as they do when the teacher works. I think we'll have a video of the session soon.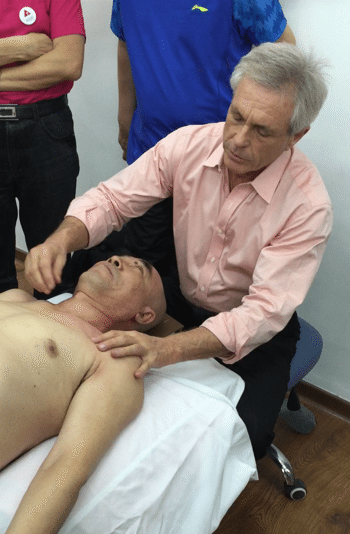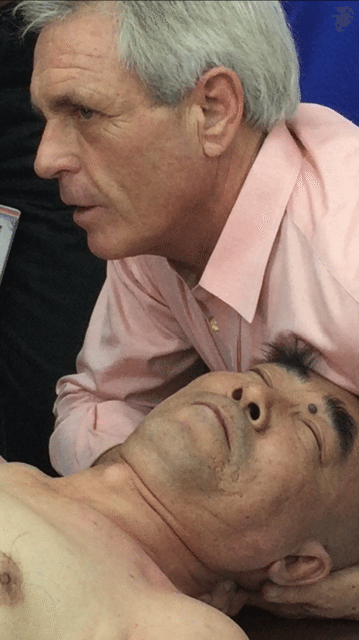 But I could have gotten much more – for him, for both of us – if I could have simply entered that spacious cave of silence and stayed there for some time silently communing with his inner nature.
Editors note: This is another entry in the series of blogs Tom wrote from his recent teaching trip to China. For the others, check out his personal blog, Country Life / City Lights.