It's 2 in the afternoon and the wan and anemic light seeping into Shanghai through the thin clouds and the pollution is more suited to dawn or dusk.  I wouldn't know; I'm in that timeless space of arrival for the international traveler, before the clock has spun into local time.  Regardless of the hour, the taxi is stuck in a traffic jam, but I was too muddled to negotiate the metro with three changes involved in getting to my hotel.  Buicks, VWs, Honda, Ford, Audi, BMW, Cadillac, Nissan, even a Skoda or two surround me – only the occasional Chinese brand of car – BYD and some other unpronounceable name.
Apartment blocks and factories are intermixed helter-skelter – no planning, no green anywhere.  If there is an old Shanghai, it is dwarfed by the new.  Now, descending off the freeway to street level, some trees are more apparent among the architectural oddities of the downtown area – cones, turrets, balls, and curved surfaces – much more like Hong Kong than Beijing.  The occasional colonial looking building surviving among the modern shops – Dolce & Gabbana, Raffles City, Where r u…, Michael Kors, Spao – the exotic aura exemplified  by the word 'Shanghai' has been shanghai-ed by western capitalism for sure.
Jesse Cook and Loreena McKinnett and Layla on my headphones – Middle East sounds somehow soothing, Western music feels inappropriate and the tinny nasal Chinese pop music on the taxi driver's radio does not fall gentle upon mine ear.
---
 Walk along the esplanade beside the river – barges filled with logs or dredged sand go by day, the brightly lit tourist boats by night, against the backdrop of the dramatic Shanghai skyline  – Vegas on steroids – on one side and the old colonial architecture on the other.   Today, a Sunday, each alcove has a bride and groom in it, being photographed in their wedding best – Western, the full white train being arranged on the wet cement for maximum effect.  The girls all look so sad, the boys bewildered.  It's not their wedding day, explains my host, but their wedding photo day, involving lots of dressing and undressing and family interference, very tiring, he says.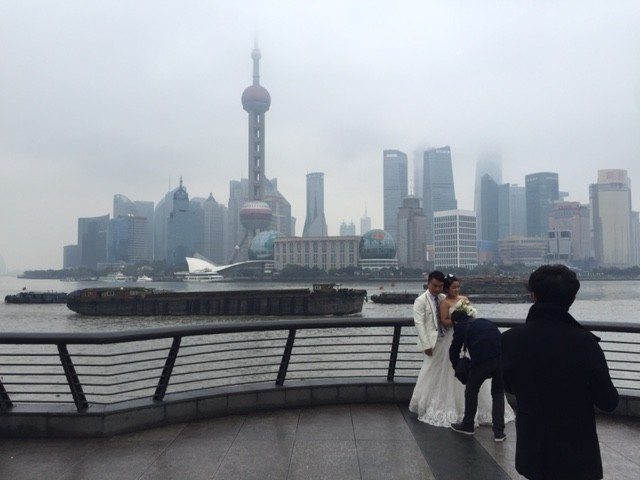 That night I take a brisk walk before bed, the city bright like Hong Kong.  It's hard to convey the aroma of Chinese cities – top notes of cigarette smoke and chicken chop suey steam sit astride the middle note of ever-present exhaust and sweet undertones of sewage, but what's that bass note?  Finally, I hit upon it, though there's no obvious source – bamboo!
---
This cop is giving us a ride from the university to our crazy, garish, leave Vegas in the dust hotel.  Cops aren't a
favorite of mine, generally, having been a protestor from the Vietnam era, but this guy bombs us through the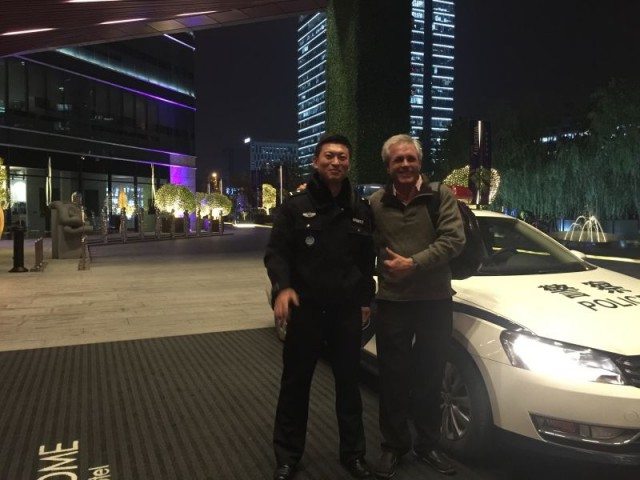 Shanghai traffic, blue lights blazing – just as a favor or to have fun, as far as I can see.  Not that people get out of the way much.  Government officials are objects of fear here (imagine dread at you local county officials or state senators at home), but the police are not.  This is not a 'police state', at least not as much as America.  Security is likewise more lax here – in the airports and in Tiananmen Square, which you might think might be really tight security-wise.
---
The hotel we are in on the outskirts of Shanghai is an 'art' hotel, but the word is loosely used, like so many in this madcap country.  The whole effect leaves Vegas in the dust for garish, take-free color combination.  My email only works in this lobby – see the clouds? – but as you can see they are very hot on Christmas.
Red China?  Christmas?  The loudspeakers have been playing the same two songs over and over in succession since we got here, and I cannot stand it another minute, and must go to my room.  I like 'War Is Over' as much as any agnostic, but at least use John Lennon's version.  The other "All I Want For Christmas Is You' was forgettable until I heard it for the 40th time.  Arggggghhhh.  At this point, even Bing would be a relief.  You should see the giant metal ant and wasp sculpture outside the door – Terminator meets Transformers.