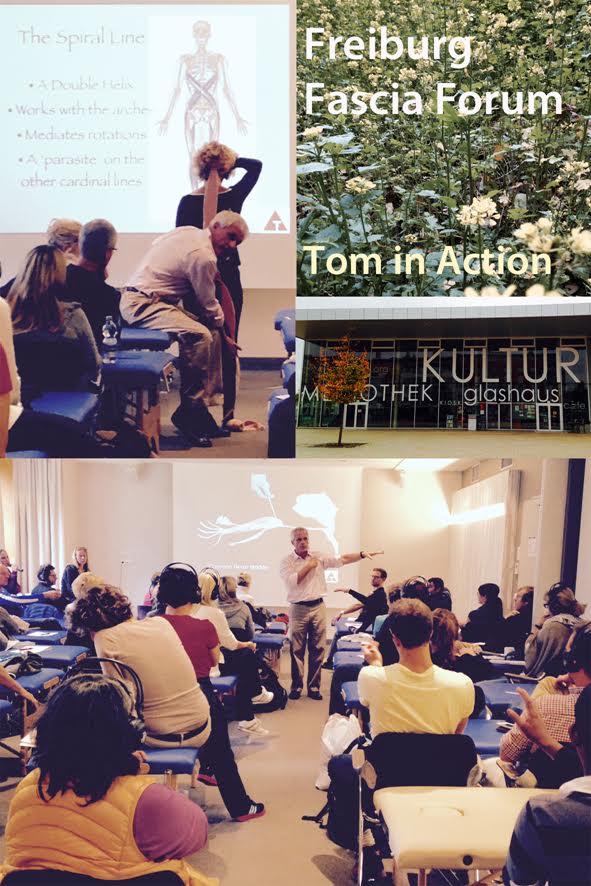 We'll see what happens with it, but I just pulled in one of the more interesting 4 days of my long career, in a multi-disciplinary exploration of fascia (what else?). This unique multidisciplinary conference lived up to its name, including (in alphabetical order) personal trainers, physiotherapists, Pilates teachers, orthopedic surgeons, osteopaths, rehabilitation specialists, and yoga teachers. Under the guidance of a mad athleticist and general strange and heartfelt person, Edo Hemar, and a couple of Hamburg orthopedists making some progress with elastosonography, Jan Schiller and Volker Carrero, and playfully tweaked by Robert Schleip and myself, there was the real spirit of listening, and at least non-judgmental suspension of disbelief, if not total acceptance.  Keep your skepticism, honey, but my cynicism was warmed.  I really hope to do more work with this group, as it fits well with our mission to bring the practitioners of 'Spatial Medicine' together.
The second two days were a bit hard for me as I fell ill.  I caught it from my translator in the previous course in Poland, and was cared for by the translator in Germany – lots of homeopathics and tinctures while I high-dosed myself with Vitamin C. Truth to tell though, the best medicament for me is adrenaline, and under its influence in front of the audience my fever stood back and allowed me to speak what I wished for the most part.
But I was fairly miz offstage. Fortunately, the hotel was attached to a 'gesundheit' center, and there I wended in the evening for a dampfbad.  Dampfbad – I love the sound.  It just means steambath, but to convey the utter German-ness of the experience, which has no equivalent in the US of A. Everybody comes – children, the elderly, athletes.  I threw my clothes in a locker with the key around my wrist – everything gets locked in Germany – and headed off for the sauna area.
They have a couple saunas, one hotter than the next, but I am headed for a steam.  The steambath at this place is heavenly – literally a domed Turkish bath of sky-blue tiles, foggy with humidity, heavy with herbs, and just what my lungs needed.  When I couldn't take it any longer – it was more hot than insurance companies in America would allow – I would go out and plunge in the cold pool, and then lie in the solarium a while, pleasantly dizzy.  Three cycles of this and I was wrung out, but on the road to recovery.
I have been to a number of these in my visits to Germany over the years. Nudity is casual – not required, but not frowned upon. A few years ago my German friends visited us and had their 3-year-old nude at a local beach, drawing comment and stares. Such a thing is totally natural in Germany. Boys and old women joined un-self-consciously in a cleanse in a sauna, at the showers. A young couple sit each with a chin on a knee, staring soulfully into each other's eyes. Teens discuss football and then are shushed; the noises of water – showers, pool, the rush of steam – are fine, but a slightly meditative air is maintained by mutual consent.
Germany is such an interesting contradiction of freedom and hide-bound rules. The conference was also expressive of this contradiction – people so eager to think differently, as long as it can be explained to them in terms they already understand. Such is the nature of teaching everywhere, I suppose, but this group of people were singularly open and scientific at the same time. Vielen spass.
-Tom Myers, October 20 2015