If, as the originals say, your soul must walk to wherever it's going, then my soul is probably still somewhere in Kansas, as my body whooshed home at 700 mph from dissecting in rainy Phoenix to landing in icy Maine. Hope my soul doesn't slip on the way. Actually, given the number of miles I put away, God alone knows where my soul is, although in my own opinion, the soul is as versatile as the mind or body, and adapts to novel conditions with alacrity and joy. She's right here with me.
Usually, being old, I lament the modern world, but today I love the rapid contrasts: from the desert winds raising rusty tones in an urban grid to the susurrating pines in the wan angled sun lighting the glassine whites of the mill pond behind the house.
It's been two years since conditions were right, but now we sit on the cold rock and don our newly-sharpened schlittshuhe (the Germans are so onamotopoetic) and skittle out over the rubbled surface.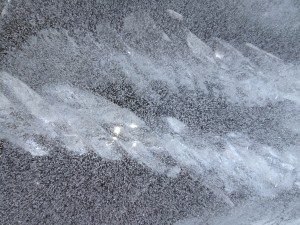 Fractals, fractals, everywhere – we skated over neurons and fibrocytes, familiar Jack Frost branching leaves, solid overlapping wave interference patterns, and finally two bubble patterns so much like owl eyes that it recalled this article: owls cannot move their eyes in their heads, so they have to move their heads farther then most: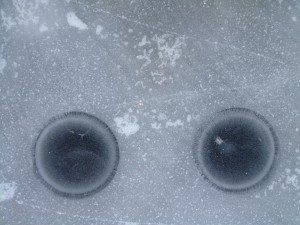 How Owls Rotate Their Heads So Far Without Snapping Their Necks
Quan, whose neck hasn't moved a quarter as much since 1998, is showing much improvement since her visit to a clinic in Utah. She joined me swooping down the pond, into the coves and along the shore below the orchard. It is so great to see her out and enjoying the use of her body, dancing along the crystalized water.