We're excited to share an article Tom recently wrote for Yoga Journal as a "fascia 101": an introduction to everything you need to know about this often-overlooked system. 
What You Need to Know About Fascia by Tom Myers
"If I asked you what a heart is like, chances are you'd say it's like a pump. The lungs are often described as "bellows," the kidneys "a filter," the brain "a computer." We tend to view the body in mechanical terms because we live in an industrial age—and because the body has been described as a "soft machine" ever since the scientist René Descartes coined the term in the early 17th century.
So it comes as no surprise that most anatomy books show you body parts—this muscle, that ligament—as if we're assembled part by part like a car or an iPhone. But instead of timing belts and motherboards, we have hamstrings and biceps. An anatomy atlas is a helpful tool for learning, but the error comes when we start thinking that humans are actually built that way. What is actually going on under your skin is so different from what's in those pictures.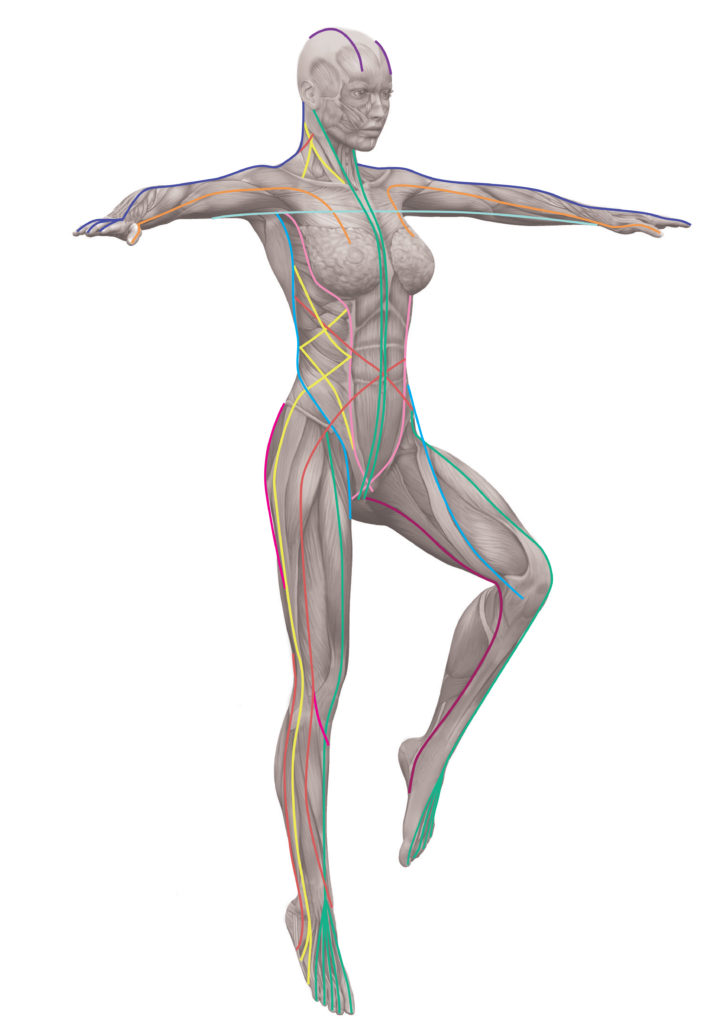 Your body is much more like a plant than a machine. We are grown from a tiny seed—a single cell, or fertilized ovum, about the size of a pin prick—not glued together in parts. This seed contains sufficient instructions (given the proper nourishment) to create a helpless, squalling baby, who turns into an energetic toddler, a feckless teenager, and then finally a mature adult.
By the time we're adults, we consist of approximately 70 trillion cells, all surrounded by a fluid fascial network—a kind of sticky yet greasy fabric that both holds us firmly together, yet constantly and miraculously adjusts to accommodate our every movement."
---
You can also join Tom Myers for a seven-week introduction to basic anatomy: Anatomy 101 for Yoga Teachers and Students
Take $100 off the cost of the course with code: TMYERS100
This online course will help yoga teachers and students alike learn anatomy in a holistic, relational, and practical way. You'll begin with a new way to map the body in terms of cells, the fascial fabric, and the neuromuscular system that creates the foundation for kinesthetic literacy. Tom teaches you how to identify common postural patterns, as well as strategies for cueing to awaken parts of the body that may need work. You'll travel from the arches of the feet and legs; to the fans of muscle around the hip, adductors, and the psoas; into an exploration of deep breathing involving the abdomen, diaphragm and the rib basket; along the springy spine; into how the the shoulders drape over the ribs; and ending with the neck, head, and jaw. This course asks the question how are we shaped, and what shapes us.