Santa Package: All 16 AT Masterclasses plus free bonus panel with Tom Myers – REGISTRATION CLOSED
$1,275.00
Course is full.
December 26, 2020 – January 6, 2021

This course is intended for Online Course.
Description

Course Details

Video

Contact
Thank you for your interest! Registration for this course has now closed. Please email info@anatomytrains.com with any questions. 
"Only connect! That was the whole of her sermon. Only connect the prose and the passion, and both will be exalted, and human love will be seen at its height. Live in fragments no longer." ― E.M. Forster
We are so grateful for the Anatomy Trains family, and have been craving even more community and connection during these in between times.  We have created a special event to show our deep appreciation, and are thrilled to invite you to the Anatomy Trains 12 Days of Christmas Masterclass Series, showcasing world-renowned thought leaders in fascia, anatomy, and body-minded movement. With this amazing lineup, it will be hard to pick just one to attend!
Each two hour Masterclass will be presented live over zoom – we encourage you to join us live! We will have exclusive contests for those who attend live, with fun prizes awarded to the winners. However if you cannot attend live, you can relax in the knowledge that each webinar will be recorded, and the recording will be made available for you to enjoy for 45 days.
If you want to give yourself or someone else the ultimate gift this season, you can purchase all 16 webinars in the AT 12 Days of Christmas Masterclass Series at the early bird price of $600, get FREE access to the Final Panel Q&A led by Tom Myers on January 6th, and $350 worth of bonus material! 
Standard Price: All 12 Days of Christmas MasterClass Series: $75 x 17 = $1,275
This "Santa Package" is the ultimate deal to access the full 12 days at a significant discount!
---
PACKAGE BONUSES: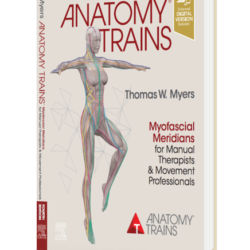 $50 off coupon for Fascia 201 on demand video course with Tom Myers to be released in Feb. 2021
An exclusive I heart Anatomy Trains t-shirt – not available anywhere else! $25 value
---
Note: registration for this package will CLOSE on December 24th at 8PM EST. 
Class schedule:
Saturday, December 26th:
Move and Be Moved – with Karin Gurtner 
10:00 AM – 12:00 PM EST
BodyReading 101 – with Tom Myers
1:00 PM – 3:00 PM EST
Sunday, December 27th:
Fascia, the Universe and Everything – with David Lesondak 
10:00 AM – 12:00 PM EST
Monday, December 28th:
Fascia – the Fabric of Innerness – with Jaap van der Wal 
10:00 AM – 12:00 PM EST
Tuesday, December 29th:
Breath, the new science of a lost art  – with James Nestor 
10:00 AM – 12:00 PM EST
Releasing Patterns of Stress and Uncovering Patterns of Ease – with Bonnie Bainbridge Cohen 
2:00 PM – 3:30 PM EST
Wednesday, December 30th:
In an Unspoken Voice: How the Body Releases Trauma and Restores Goodness – with Dr. Peter Levine 
2:00 PM – 4:00 PM EST
Thursday, December 31st:
Fascia in Body Movement – with Andrzej Pilat 
10:00 AM – 12:00 PM EST
Saturday, January 2nd:
Can fascaie be a pain generator? – with Carla Stecco
10:00 AM – 12:00 PM EST
Introduction to Zoga Movement – with Wojtek Cackowski
1:00 PM – 3:00 PM EST
Sunday, January 3rd:
Understanding and Working with Scoliosis – with Dr. Meredith Stephens 
10:00 AM – 12:00 PM EST
Relax Your Neck, Liberate Your Shoulders– with Eric Franklin
1:00 PM – 3:00 PM EST
Monday, January 4th:
Balancing the Diaphragms – with Julie Hammond 
10:00 AM – 12:00 PM EST
Core Rapport 2021: A Strong Start for your Center for the New Year – with Jill Miller 
1:00 PM – 3:00 PM EST
Tuesday, January 5th:
The Boundless Body – Interstitium 2.0 – with Dr. Neil Theise
10:00 AM – 12:00 PM EST
Wednesday, January 6th: 
Fascia Research Update: Connective tissue research related to interoception, proprioception and sympathetic fascia innervation – with Dr. Robert Schleip 
10:00 AM – 12:00 PM EST
Final Panel – Q&A led by Tom Myers 
1:00 PM – 3:00 PM EST
These Masterclass Series are open to all manual therapists, movement professionals, and curious body-minded individuals worldwide. 
We hope you will join us for this rich, festive and interactive Masterclass series!
Dates
Dec 26, 2020 – Jan 6, 2021
Class Times

Webinar times vary – please see description for details.

Teacher(s)
Tom Myers, Plus 15 other special guests
Tuition
$600 for 17 webinars
Credits Earned
33.5 CEUs NCBTMB, pending; 33.5 CECs NPCP (PMA, pending; 33.5 CEs IASI Cat. 1
Cancellation Fee
Please note that there are no refunds 24 hours before the course starts. For cancellations up to 24 hours before the start of the course, full tuition credit will be applied towards a future workshop or product.
Contact
Live chat on anatomytrains.com or 888 546-3747
info@anatomytrains.com
info@anatomytrains.com
Get in touch if you have questions about this course.