ABOUT LUMERIA MAUI RETREAT
"Education is not the filling of a bucket, but the lighting of a fire." – Plutarch
Join Anatomy Trains author and master bodyworker Tom Myers and creator of Anatomy Trains in Motion Karin Gurtner on Maui January 21-26, 2019  for an all inclusive retreat. Ignite your understanding of anatomy with brilliant lectures, rich movement practices, individual BodyReading™ postural assessment and customized movement programs to transform your practice and your life.
The science is clear: You can change inner states through outer movement. Learn to alter your psychophysiology by altering the qualities of movement – generous, dynamic, melting – or slow and controlled vs reflexive elasticity.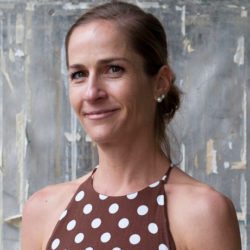 Karin Gurtner is a graduate PMA certified Pilates Matwork & Studio Teacher, certified Anatomy Trains Teacher and Kinesis Myofascial Integration Therapist, Yoga and Gyrokinesis Teacher, Wellness & Personal Trainer, Fitness Leader, certified Trainer & Assessor.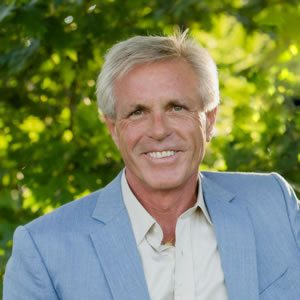 Tom Myers is the author of Anatomy Trains, the co-author of Fascial Release for Structural Balance, and numerous articles for trade magazines and journals that have been collected in the books Body3, The Anatomist's Corner, and Structural Integration: Collected Articles. He has also produced over 15 DVDs and numerous webinars on visual assessment, Fascial Release Technique, and the applications of fascial research.
Program Content Sample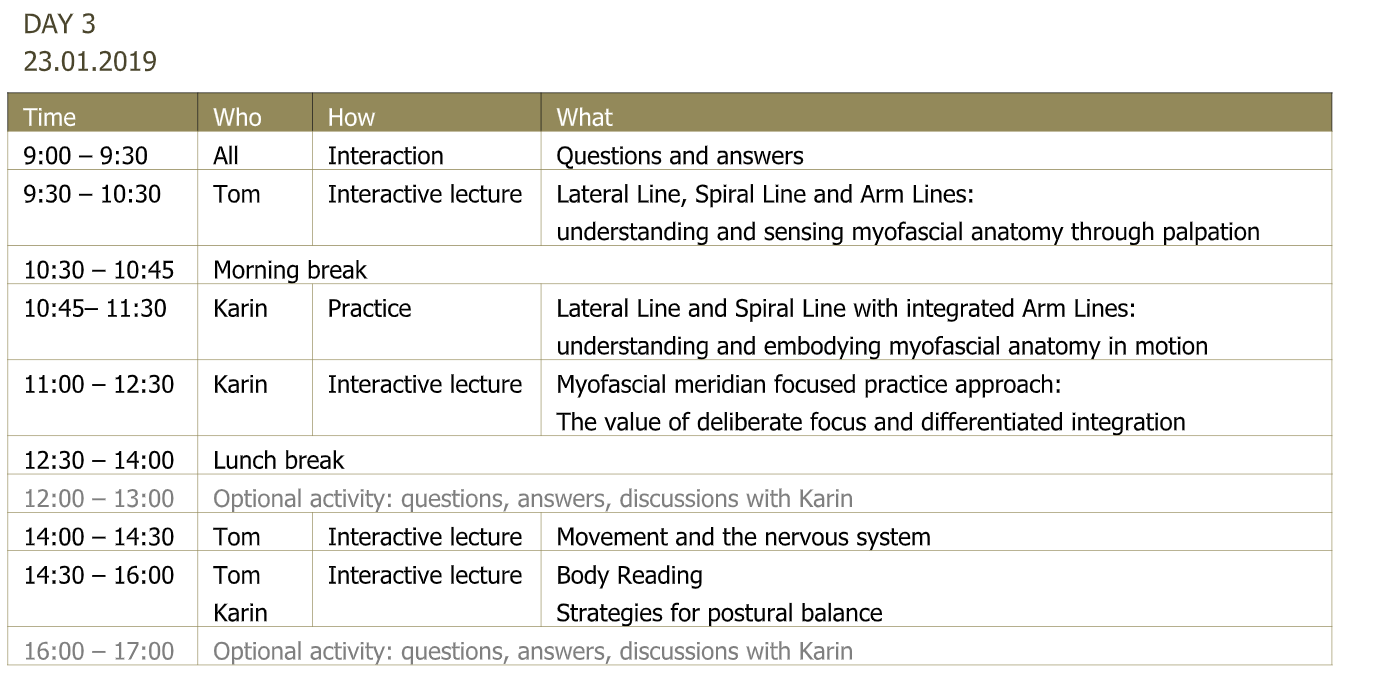 Immersive Movement, Emerging Being FAQs
1: WHO IS THIS TRAINING FOR?
This course is designed for movement professionals, and is open to all who want to develop a better understanding of fascial anatomy and a deeper sense of embodied movement.
 2: DOES THIS COURSE PROVIDE CONTINUING EDUCATION CREDITS?
Yes, this course provides 30 CEs NCBTMB, pending approval and 30 CEs through PMA (Pilates Method Alliance), pending approval.
3: ARE SUPPLEMENTARY CLASSES INCLUDED IN THE COST OF TUITION?
Yes, they part of the package.
4: IS THERE REQUIRED ADVANCE READING BEFORE THE RETREAT?
5: WHAT SHOULD I WEAR FOR CLASS?
Please wear comfortable and temperature-appropriate clothes for movement – yoga / Pilates
6: IS THERE A DRESS CODE FOR THE WELCOME DINNER?
There is no dress code for our welcome dinner.
7: DO I NEED TO BRING MY YOGA MAT OR ANYTHING ELSE?
Lumeria Maui will provide yoga mats and any props necessary. We suggest a notebook, pen, and water bottle, although water will be provided by Lumeria
8: I NEED SPECIAL ACCOMMODATIONS IN CLASS DUE TO A DISABILITY? WITH WHOM DO I SPEAK ABOUT THAT?
Please call the Anatomy Trains office and speak to Becky at 888-546-3747. We will be happy to provide reasonable accommodations.
Lumeria FAQs
1. WHAT ARE THE CHECK-IN/ CHECKOUT TIMES?
Please see your program schedule for check-in and check-out times.
2 . WHAT SHOULD I BRING TO LUMERIA MAUI?
Don't forget to pack: camera/batteries/charger, sneakers/hiking shoes, a long sleeve shirt, pants, and a light sweater for evenings, as the weather can be cooler at night, hat, flip flops, shorts, t-shirt, bathing suit, sun block, insect repellent, and water bottle.
3 . DO YOU PROVIDE TRANSPORTATION TO AND FROM
THE AIRPORT?
We do not provide transportation to and from the airport. Taxis from the airport to Lumeria Maui are approximately $35.00.
4. DO I NEED TO RENT A CAR?
We highly recommend renting a car if you want to explore all that Maui has to offer. Taxis charge a $25.00 surcharge in addition to meter fees to do pickups at Lumeria. We suggest Dollar (866)4342226 or Hertz (808)8935200 at the Kahului airport.
5. HOW FAR IS IT FROM LUMERIA TO THE BEACH?
A favorite among locals, Baldwin Beach is the closest and most accessible beach at approximately 4.2 miles from Lumeria Maui.
6. DO YOU PROVIDE BEACH TOWELS?
Yes, we provide beach and pool towels.
7. ARE THERE ANY WALKS OR HIKES NEARBY?
Yes, there are many beautiful walks and hikes for all skill levels from 10 minutes to 45 minutes driving distance from the Lumeria Maui.
8 . IS THERE WIFI?
Wireless internet is available at no cost and can be accessed via personal laptops and mobile devices.
9 . ARE THERE SAFETY BOXES FOR PERSONAL BELONGINGS?
We do have safe deposit boxes in the rooms.
10 . WHAT HAPPENS WITH LOST OR UNRETURNED KEYS?
Lumeria Maui charges $50 for lost or unreturned room keys.
11. DO YOU OFFER LAUNDRY SERVICES?
Lumeria Maui can offer laundry services. We require 2 weeks' advance notice from retreat leaders.
12. CAN I BRING MY CHILDREN TO LUMERIA MAUI?
Lumeria Maui invites you to deeply relax, recalibrate and restore on our intimate 6-acre North Shore Maui estate property. We work hard to maintain a peaceful, private and quiet environment for all students, guests and retreat visitors. Please be conscious and considerate of fellow guests when considering whether or not to bring children on your retreat. Children in need of play and creative expression would not find Lumeria Maui to be the best fit.
13. DO YOU ALLOW PETS?
We only allow service dogs on the property.
14. HOW MUCH SHOULD I TIP?
The standard tip is 20%; however, it is up to you according to your satisfaction with our guest services.
15. WHAT IS THE WEATHER LIKE ON MAUI?
Hawaii is sunny and enjoyable all year round. For up to the minute weather information, please visit: https://www.hawaiiweathertoday.com/maui.php
16. IS ALCOHOL CONSUMPTION AND SMOKING PERMITTED AT LUMERIA MAUI?
You welcome you to bring your own alcohol. We are a smoke-free facility.
17. WHAT FORMS OF PAYMENT DO YOU ACCEPT AT LUMERIA MAUI?
We accept all major credit cards and cash.
Travel Information
You are solely responsible for your travel to and from Lumeria Maui. 
Kahului Airport is approximately 12.5 miles (a 20-25 minute drive) from Lumeria Maui. See map.
Lumeria Maui does not provide transportation to and from the airport. Taxis from the airport to Lumeria Maui are approximately $35.00.
LUMERIA RETREAT - IMMERSIVE MOVEMENT, EMERGING BEING DETAILS
Besides a deep dive into the meditation in movement, you will learn how to:
Work with the properties of fascia and muscle for maximum benefit
Distinguish perception, proprioception, and interoception in body sensing and conscious movement training
Integrate the concept of homeokinesis, or dynamic balance in your practice and teaching
BodyRead of available potentials and global patterns of compensation using the Anatomy Train body map
Develop movement strategies to strengthen available resources and transcend old habits
Tailor movement strategies for each individual (including yourself)
Beneath the 'how' is the 'why' – understand the true value of what you are doing in movement – whether yoga, Pilates, personal training, dance, or rehabilitation – to give its most valuable essence to others.
This
all-inclusive
package includes tuition for Immersive Movement, Emerging Being with Tom Myers and Karin Gurtner, 5 nights luxury lodging at Lumeria Maui, and incredible meals. Click the Register Now link below for details. 
We do not have any upcoming retreats. Please check back later!
If you have any questions please contact us or take a look at our workshops.
Lumeria Maui Retreat Gallery