The Anatomy Trains Teacher Training for Manual Therapists is taught in an environment of extraordinary standards. The combination of mentorship with Tom Myers, the author of Anatomy Trains, and Lou Benson, ATSI Chair, will create a solid foundation and fine tune your teaching and presenting skills to provide the platform to begin your mentorship on the pathway to becoming a Certified Anatomy Trains teacher.
Participating in Anatomy Trains Teacher Training does not guarantee that you will be certified to teach Anatomy Trains courses. You will need to assist and co-teach and be coachable once you graduate from Teacher Training and begin your path to certification. What this program does require is 100% commitment to your own growth and to helping Anatomy Trains inspire and create the next generation of Structural Integration practitioners, transforming the lives of those who practice, and the lives of those receiving the work.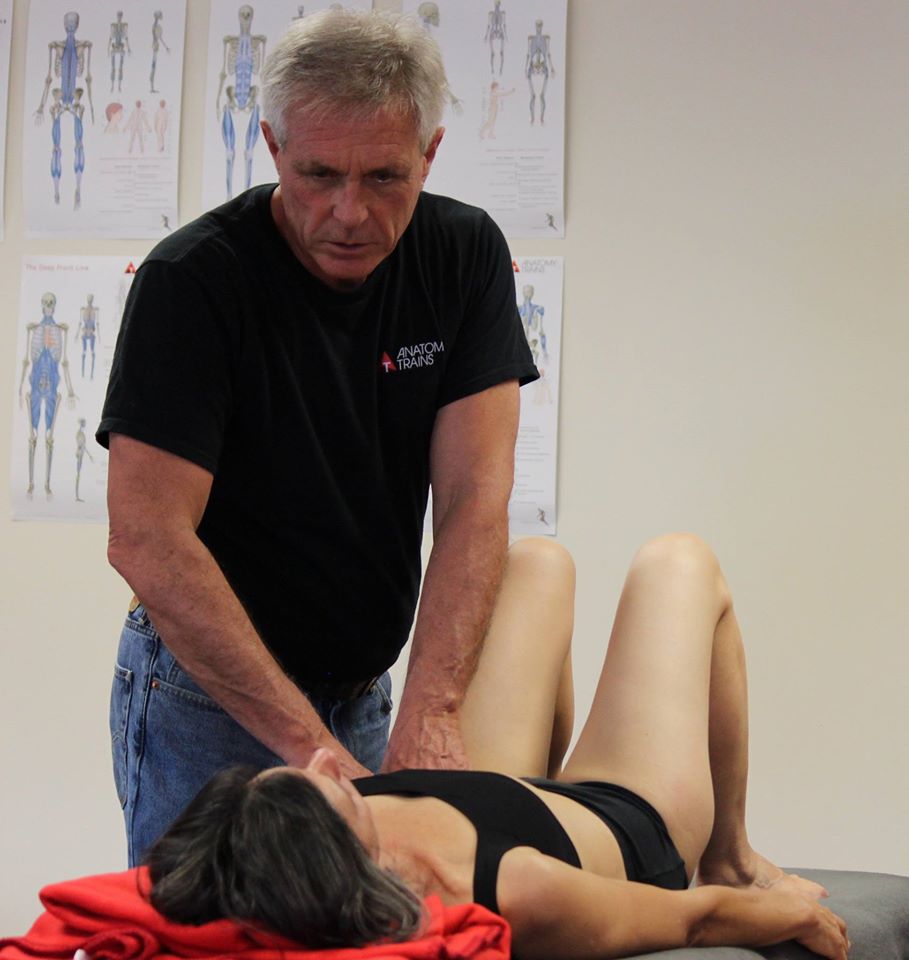 Results
You will dive deep into a full immersion into the Anatomy Trains methodology through Tom Myer's inspirational lectures, Lou Benson's expert guidance in hands on practice of manual techniques and learning how to teach 'palpatory anatomy skills'. You will learn from Tom how to teach BodyReading in a way that moves students from looking into seeing, and you will learn and practice how to teach the Anatomy Trains Myofascial Meridian lines. You will gain technical knowledge and confidence in teaching Anatomy Trains, inviting full self-expression in your teaching and in your life!
Who This Training is For
This training is for you if you are a graduate of the Anatomy Trains Structural Integration (ATSI) program with at least one year of practice delivering the 12 series.
Commitment
The Anatomy Trains teacher training requires you to commit yourself 100%. This includes: being on time to all sessions, being coachable in the moment and being open to try on what is offered.
Expectations
Daily you can expect two to three lectures, partner work, and practice teaching.
The schedule will be full and we recommend if you would like to sightsee, arrive prior to the start of the program or stay a few days after the program ends.
Enrollment Process
Complete the application form (a $250 deposit is required upon submitting your application).
You will receive an email within two weeks of your application submission. We may or may not require a phone interview.
Within one weeks of your phone interview, you will know if you have been accepted to the program.
Tuition & Schedule
Manual Teacher Training
September 9 – 13, 2017
$1,000 ($750 after deposit)
Movement Teacher Training
September 12 – 16, 2017
$1,000 ($750 after deposit)

Manual and Movement Teacher Training
September 9 – 16, 2017
$1,500 ($1,250 after deposit)
The option to take both manual and movement is open to KMI graduates only.
September 12 and 13 would be focused on Body Reading and Teaching the Anatomy Trains lines, and would overlap.
Trainings are located at our classroom in Walpole, Maine.