Rolling Along the Anatomy Trains: New Routes Live Online with Jill Miller and Tom Myers
February 12 – 13, 2022

This course is intended for Online Course.
Description

Course Details

Contact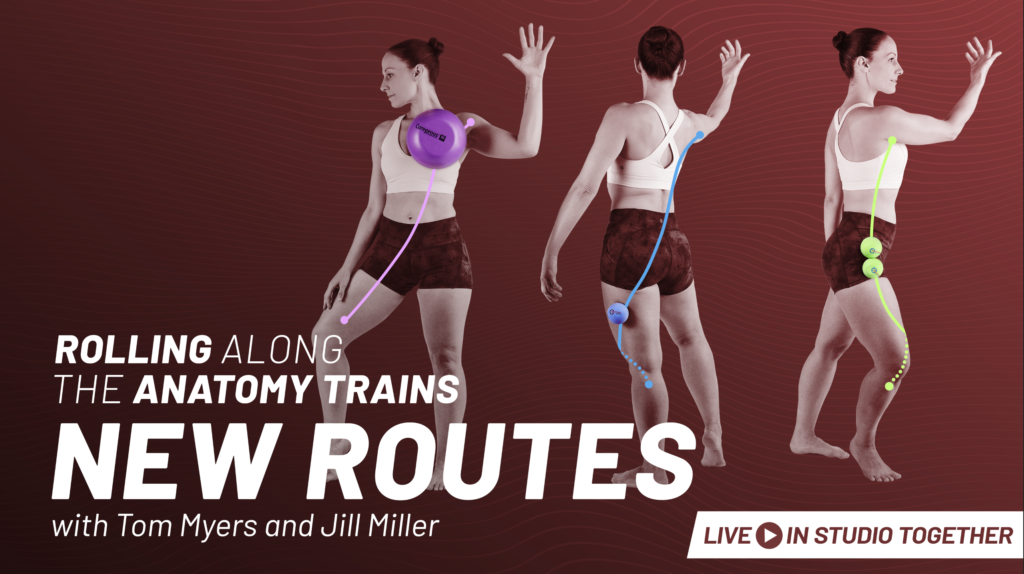 Thank you for your interest! Registration for this course is now closed. Please email info@anatomytrains.com with any questions. 
Join The Roll Model Method author Jill Miller, and Anatomy Trains author Tom Myers, for their New Routes program. This 8 hour course, presented in two 2-hour blocks each day, features brand new material, designed to pair with or without the original Rolling Along the Anatomy Trains online program. It also serves as both an extension and on-ramp to that best-selling self-study course.
Hosted by Anatomy Trains live on Zoom.
Program schedule: 
February 12 and 13, 2022
9-11 PST/ 12-2 EST and 1-3 PST/ 4-6 EST each day
In this first time exclusive live program, Tom and Jill will be together in Jill's LA studio (!) to share inspiring lectures, innovative new rollouts and informative self-assessments for the juiciest exploration of the neuromyofascial web in the following anatomical zip codes:
Where your walking meets your breathing – Balancing Quadratus Lumborum, Psoas and Respiratory Diaphragm

Explore the dynamic "Hip Grip" of piriformis and psoas

Take a deep dive into the visceral connections of psoas, abdomen, thorax and pericardium

Shoulder stability and power: Connecting the arms to the core

Ride the Anatomy Trains Front, Back, and Ipsilateral Functional Lines

Fascial Hot Spots within the cardinal Anatomy Trains that weren't included in their original 9 hour production.

PLUS a BodyReading opportunity live online with Tom & Jill and some lucky students.
With a combined 70 years of teaching anatomy and movement, Tom and Jill will share their own unique insights and embodied practices along with healthy doses of playfulness and body wisdom. Connect live with this pair and be a part of the alchemy in a movement lab setting that can help you expand your professional or self-care toolkit as you roll through these "new routes".
This program was structured so everyone around the globe could have live access for questions as Tom and Jill present together in studio. But if you can't join live, you can still submit a question in advance to hear on your 45 day replay access!
ALL REGISTRANTS will receive access to the recordings of this exciting live webinar for 45 days, so don't worry if you cannot tune in live. 
Please note: This is an experiential webinar, so please have a clear space for comfortable movement. An exercise mat will also be helpful throughout the event.
PRODUCT USED IN THIS COURSE includes the full Roll Model Therapy Ball set. This kit is SOLD SEPARATELY, and not included with tuition. If you do not have these products, you can order the Roll Model Kit here.
User coupon code:  GIVEME10 for a 10% savings on the Roll Model Therapy Ball set.
*please factor in delivery time for your order to ensure you get it prior to the start of the course.
FAQs:
I've already taken Rolling Along the Anatomy Trains, what's new in this "New Routes" Program?
New Routes explores the 3 functional lines that weren't included in the original 9 hour production. It also opens new exploration into vistas of the Deep Front Line (and more) that have become visible over the past 2.5 years of fascial research and dissection since their original production.
This program also includes a few new additional Fascial Hotspots from lines previously explored and provides LIVE body reading with members of the student participants. A rare opportunity for this international classroom.
Most importantly, the LIVE format brings you directly into the collaborative think tank environment that engages Tom and Jill in ways that only occur in the live educational medium. This means there will be surprises, laughs and new thought teachings that arise based on the material and the students participating worldwide.
I haven't done Rolling Along the Anatomy Trains yet, is the "New Routes" Program right for me?
Tom and Jill welcome students who have not yet taken Rolling Along the Anatomy Trains program. This LIVE course can serve as an On-Ramp to students unfamiliar with either Jill or Tom's work, and demonstrate how fascial anatomy can translate into self myofascial release applications for multiple populations and contexts.
For those familiar with Tom and/or Jill's work, this course gives you new lenses to assess, experience and experiment with visceral self-myofascial applications. It will also reveal where transverse plane performance deficits tend to stagnate within the fascial system. Their teamwork becomes instantly useful for your own health and performance as well as for your clients.
Dates
Feb 12 – 13, 2022
Class Times

9-11 PST/ 12-2 EST and 1-3 PST/ 4-6 EST each day

Teacher(s)
Tom Myers, Jill Miller
Tuition
$275 until Jan. 14, 2022 / $300 thereafter
Credits Earned
8 CEs NCBTMB, pending; 0.8 CECs NASM, pending; 8 CEs IASI Cat. 1; 8 CECs NPCP (PMA)
Cancellation Fee
For cancellations up to 24 hours before the start of the course, full tuition credit to applied towards a future workshop or product. Cancellations within 24 hours before the start of the course, no refunds.
Contact
Francesca at 888 546-3747 or live chat on our website
info@anatomytrains.com
Get in touch if you have questions about this course.