About Anatomy Trains Neurovascular Release™
About Anatomy Trains Neurovascular Release™
When you have reduced the body's subconscious need to protect the neural and vascular networks, your client will have less pain, more efficient movement, better proprioception, more productive stretching, and greater freedom.
Are you ready for small-group mentoring and a deep dive into techniques and applications? Two training programs leading to certification are available:
Anatomy Trains Certification in Manual Neurovascular Release
This path of study is for experienced manual therapists of all kinds, with an alternative pathway available to structural integrators. Earn certification by completing Manual NVR Part 5, preceded by the first four Parts or an individualized study plan. (The regular certification pathway is described below. Practitioners who began their NVR studies prior to 2019 are invited to consult with Kier on the best path forward to certification.)
Anatomy Trains Certification in Movement-Based Neurovascular Release
This path of study is for yoga teachers, Pilates instructors, structural integrators, physiotherapists, and other movement educators and trainers. (You do not need to be a manual therapist for this program.) Earn certification by completing six Home Study
Modules and attending the live Labs and Seminars that complement the Home Study curriculum. (Home Study Modules A through F are being revised and will be available again in September 2023. In 2024, the live Labs and Seminars will be held twice per month, January through June.)
About Kieran Schumaker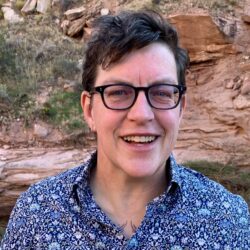 Kieran Schumaker (they/them) is a Board Certified Structural Integrator who specializes
in freeing myofascial restriction of nerves and vasculature, with the goal of helping clients to enjoy moving with greater comfort, ease, and agility. Their gentle and specific work can resolve longstanding issues with posture and function. They have studied in depth with several masters, and have a deep appreciation of the science and art of manual therapy. Kier is a Certified Teacher of Anatomy Trains Structural Integration and offers advanced training for manual therapists, structural integrators, and movement educators through their Anatomy Trains supported courses in Neurovascular Release.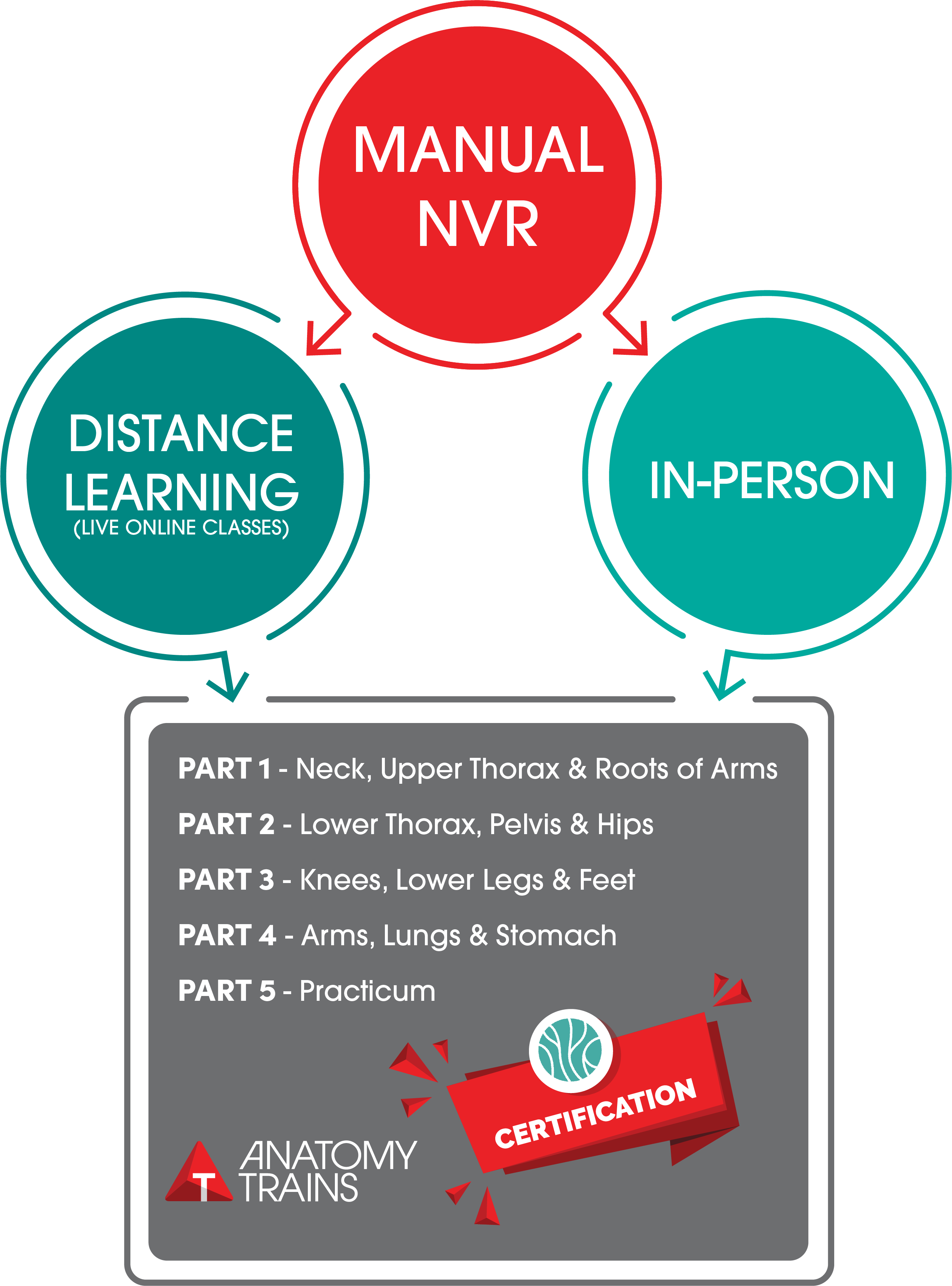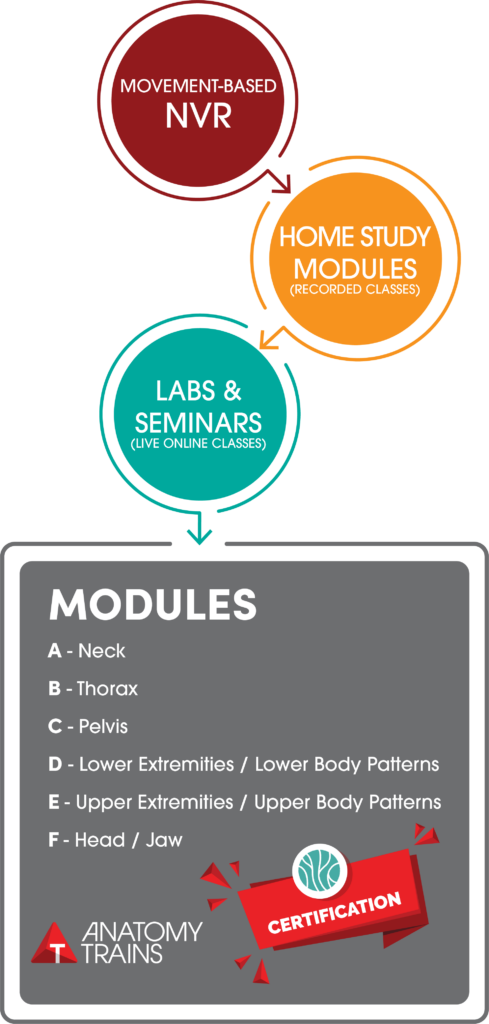 The Manual Neurovascular Release Curriculum:
Manual NVR Part 1: Neck, Upper Thorax, and "Roots of Arms"
Focus on the vessels and nerves of the neck, upper thorax, and "roots of the arms." Essential work for brachial plexus symptoms, whiplash recovery, and for all shoulder and neck problems. Work with the artery supply to the diaphragm, and vagus nerve to lungs, heart, and stomach. This is the foundation of the Manual NVR course series. (20 hours online over six weeks, or one 3-day in-person course)
Manual NVR Part 2: Lower Thorax, Pelvis, and Hips
Focus on the lower thorax, pelvis, and hips in great detail. Essential work for the core. We will discuss scoliosis, sciatica, disc issues, pelvic torsion, hamstring injuries, hip joint replacements, and how lower body restrictions affect the neck. (20 hours online over six weeks, or one 3-day in-person course)
Manual NVR Part 3: Lower Extremities
Develop your understanding of lower body patterns and further cultivate your subtle assessment skills while reviewing key techniques from Parts 1 and 2, adding detailed work for the lower legs and feet. We will discuss common knee issues, anterior compartment syndrome, plantar fasciitis, balance for the arches, and support for the feet. (20 hours online over six weeks, or one 3-day in-person course)
Manual NVR Part 4: Upper Extremities
Revisit upper body patterns as we add details for the arms and hands. Understand body-wide structural patterns as we work with the viscera, the vascular network, and the central and peripheral nervous system, refining the assessment skills you have been learning in Parts 1, 2, and 3. (20 hours online over six weeks, or one 3-day in-person
course)
Manual NVR Part 5: Assessment and Strategy Practicum
Part 5 is a four-day in-person capstone to the Manual NVR certification program. This practicum is focused on assessment and practical application. An exciting and challenging course, this is a celebration more than a test. You will be applying all that you have learned in Parts 1-4 while doing full sessions with outside models in a clinic
format. (one 4-day in-person course)
Alternative pathway for Structural Integrators who are working in "the Series":
Manual NVR-SI Part 1: Neurovascularly-Informed Structural Integration Appropriate for any structural integrator who is orienting their sessions around the classic 10-session series or the ATSI 12-session series, this course serves as a bridge between the broad, deep touch of classic structural integration and the gentle, tissue- specific subtlety of osteopathic work. The territory of this course is the whole body—you will learn something for every session. As a structural integrator doing series work, if you were to take only one NVR class, this would be the practice-changer for you! (one 3-day in-person course)
After completing NVR-SI Part 1, you can choose to do Manual NVR-SI Part 2, or Manual NVR Parts 1 and 2. Brand-new structural integrators will want to wait a year before continuing their NVR studies.
Manual NVR-SI Part 2: Shoulder and Pelvic Girdles
This four-day course provides a detailed study of neurovascular release techniques for the neck, shoulder girdle, and pelvic girdle. (24 hours online over two months, or one 4- day in-person course)
Alternatively, you may take Manual NVR Parts 1 and 2. This option will provide you with a review of some of the techniques learned in NVR-SI Part 1. It will also provide you with more course dates to choose from, and more time for integration. (40 hours online, or two 3-day in-person courses, spread out over six months)
After Manual NVR-SI Part 2 or the equivalent, you may take Manual NVR Parts 3, 4, and 5 to complete your certification.
All Manual NVR Students are free to alternate between distance learning and in- person courses while planning their course schedule. (Note that NVR-SI Part 1 and NVR Part 5 are only offered in person.)
Please check this link for the full course schedule to help you plan your studies.
Tom Myers Endorses Anatomy Trains Neurovascular Release™ with Kieran Schumaker
Anatomy Trains Neurovascular Release™ Course Information
| Course Name | Date | Location |
| --- | --- | --- |
| | Jun 4 – 4, 2023 | Online course |
| | Jun 11 – 11, 2023 | Online course |
| | Jun 20 – 22, 2023 | Walpole, ME, USA |
| | Jun 24 – 26, 2023 | Walpole, ME, USA |
| | Jul 5 – Aug 10, 2023 | Online course |
| | Sep 8 – 10, 2023 | Bellingham, WA, USA |
| | Nov 8 – Dec 21, 2023 | Online course |
| | Dec 1 – 3, 2023 | Bellingham, WA, USA |